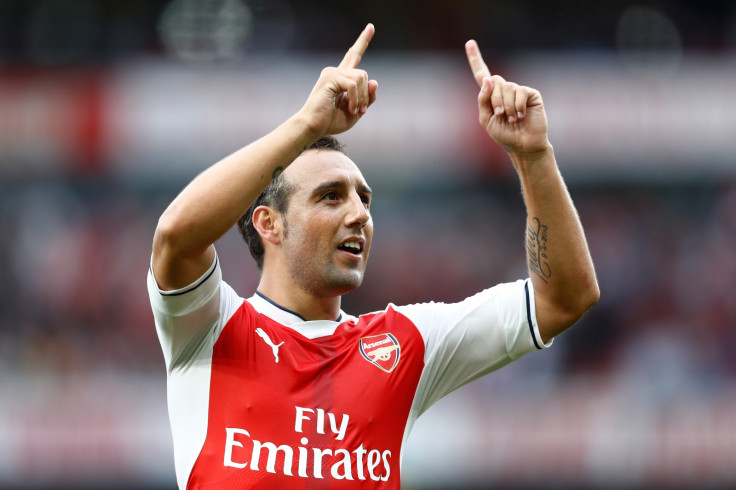 Arsenal manager Arsene Wenger has no plans to enter the January transfer window to replace Santi Cazorla, despite the Spanish playmaker being ruled out for three months following confirmation he will need surgery to fix an Achilles injury. The 31-year-old will not play again this year, having already missed the Gunners' last nine matches with the issue.
The news of Cazorla's absence sees him join Mathieu Debuchy on the sidelines after the French full-back was ruled out for six weeks due to a hamstring injury. Debuchy limped out of his first appearance of the season against AFC Bournemouth after just 15 minutes, which is now unlikely to see him play against until 2017.
Turkish club Besiktas had confirmed their interest in bringing the former Newcastle United full-back to the club during the summer, and due to Hector Bellerin and Carl Jenkinson being ahead of Debuchy in the pecking order, he was expected to leave Arsenal on loan in January. However, while Wenger says Cazorla's absence does not affect his plans next months, he admits it is unlikely Debuchy will more to pastures new.
"In midfield we have many players but there are two reasons," Wenger told reporters ahead of the Premier League trip to West Ham United. "Now we [Arsenal] have the quality and secondly in January the transfer market you will not necessarily find a Cazorla.
Adding on Debuchy, who spent the second half of last term at Bordeaux, the Arsenal boss added: "We are now in December and he will not really be available. He always recovers quicker than expected . People asked why I didn't play him against Paris Saint-Germain, I had the temptation but he's only had 70 minutes for the Under-23s and he was it was maybe a bit early after that. Normally he recovers quickly."