Arsenal's annual general meeting (AGM) has become something of a staple of the football news calendar over recent years, with the club's increasingly disgruntled fanbase having traditionally used it as their one opportunity to question the club's typically divisive transfer policy, despite no shortage of cash reserves.
The 2016 edition took place at the Emirates Stadium on Monday morning (24 October), where majority shareholder Stan Kroenke, who was narrowly re-elected to the Gunners board, paid tribute to Arsene Wenger shortly after his 20th anniversary in charge and presented English football's longest-serving manager with a portrait to mark two decades of service.
Wenger's contract situation was expected to be one of the hot topics of Arsenal's latest AGM, with fans understandably seeking clarification as to his future.
The Frenchman's current deal is due to expire in June 2017 and chairman Sir Chips Keswick appeared to suggest that renewal talks are not an immediate priority as Arsenal, whose goalless draw at home to newly-promoted Middlesbrough on Saturday ended a formidable run of seven consecutive victories across all competitions, concentrate on the team's immediate progress.
"We all recognise the fantastic contribution Arsene has made to club in last 20 years," he was quoted as saying by The Mirror. "We are confident about his ability to take us forward. We will sit down and discuss the future at the appropriate time but our focus is on maintaining the current run and competing for trophies."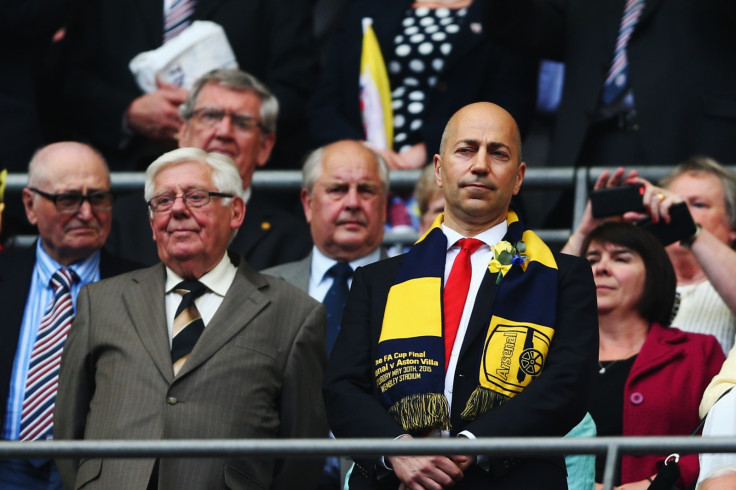 Regarding ongoing negotiations involving influential attacking duo Mesut Ozil and Alexis Sanchez, both of whom are out of contract in 2018, chief executive officer Ivan Gazidis added: "We have a good track record in recent season of retaining our key players, developing young players and attracting new players. I can't get into a discussion on individual players but can assure you we will apply the same focus, rigour and diligence to members of our current squad and I think you can see the direction of travel."
Gazidis spoke positively regarding Arsenal's financial situation, insisting that the club were now beginning to compete with some of their key domestic rivals in terms of wages. The South African CEO's own salary has become something of a bone of contention with fans of late, amid reports that he received a £1m ($1.2m) bonus last year to take his annual earnings up to £2.6m, although Sir Chips evidently believes the club are lucky to have him on board.
"Ivan is doing a first class job in leading the club," he added. "We are very fortunate to have him as a CEO."