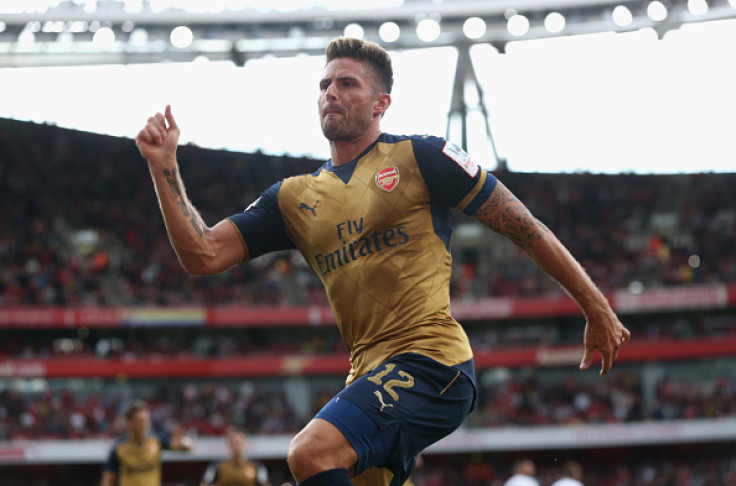 Arsene Wenger has refused to blame Olivier Giroud for Arsenal's shock 2-1 loss to Dinamo Zagreb in the first group game of the Champions League on Wednesday (16 September). The Gunners were reduced to 10 men as early as the first-half which left them with a big task after being a goal down.
Arsenal conceded the first goal owing to some lacklustre defending by Alex Oxlade-Chamberlain, as he failed to track the Zagreb player, who hit the ball into David Ospina, but a ricochet off Chamberlain saw the ball inside the net. The second goal was again owing to Arsenal's marking on set-pieces, failing to cover the first post from a corner.
Giroud started the game brightly in which he made some good runs into the opposition box and had two chances to score early in the first-half, which were thwarted by goalkeeper Eduardo and off the post. His first yellow card was after he protested with the referee over a foul awarded against him while his second was deemed harsh, as he tried to get the ball but floored a player in the process. Wenger defended the Frenchman's performance and revealed that the referee was not always consistent in his brandishing of cards in the game.
"The first yellow card was Giroud's fault because he protested, even if there was no foul against him. After that he should have not have protested to the referee. His second yellow card was completely unlucky to touch the guy. I do not understand the referee," Wenger told Arsenal's official website.
"I don't think he saw the guy. It was completely accidental. It happened and I think at that moment it was not a second yellow. It has to be a foul on purpose and it was not on purpose. The referee should have given several yellows tonight based on that," he added.