Arsenal manager Arsene Wenger has revealed that Theo Walcott is not in the matchday squad against West Bromwich Albion after picking up a slight calf problem following their 2-1 loss to Manchester City. Kieran Gibbs was also substituted in the second half after a clash of knees and has to be assessed before the next fixture.
The Gunners ran away 1-0 winners at the Emirates, owing to a header by Olivier Giroud in the dying embers of the game, securing three points after two consecutive losses against Everton and Manchester City. The win takes them to within nine points of leaders Chelsea, who also secured a 3-0 win over Bournemouth, picking up their 12th consecutive win of the campaign.
"Theo has a small calf problem, but a very small one," Wenger told Arsenal's official website when asked about Walcott. "It's a kick. I don't know how bad it is, but it's a kick on the knee," Wenger said on Gibbs.
Wenger's men found it hard to open up the Baggies' defence for majority of the game, with Alexis Sanchez coming close twice, with his first effort being saved brilliantly by Ben Foster and hitting the post with his second. However, it was Giroud, making his first start in the league this season, who gave Arsenal the lead, like he has done many times off the bench this campaign. However, Wenger was appreciative of the Frenchman's patience and insists that he has the mentality to deliver whenever he is called upon.
"He makes always a point when he comes on because he's scored many times when he's come on. He has qualities in our squad that are needed and that the other players have not. And he is a fighter as well, Olivier. He has a fantastic mentality," Wenger said.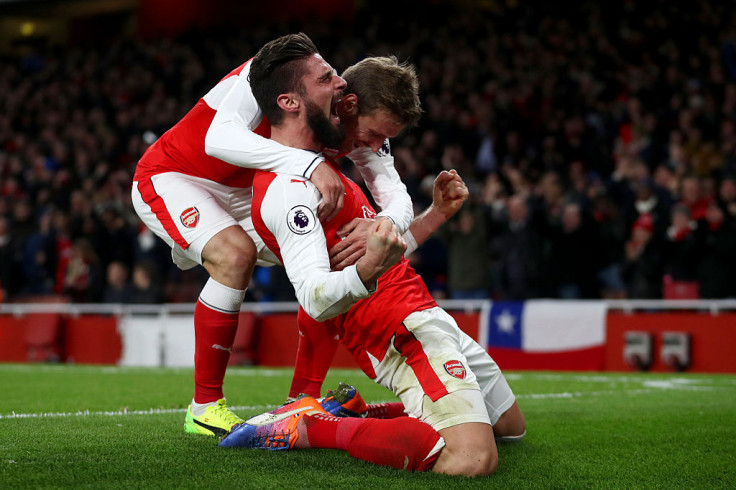 "It has been very frustrating for him because he didn't always play and when he played well I didn't always play him in the next game. But I think we have an honest relationship. I have a big respect for him and he knows that."