Arsene Wenger has apologised and moved to clarify reports of a post-game strop thrown by Mesut Ozil in the aftermath of a North London derby defeat to Tottenham Hotspur at White Hart Lane, but was once again unable to offer any update regarding the German playmaker's contract situation or indeed his own Arsenal future.
Ozil did not exert much influence over that latest loss that dealt another blow to Arsenal's top-four ambitions and confirmed that they would finish below their local rivals for the first time in 22 years. It was subsequently reported by The Telegraph that the 28-year-old, a previous target for cash-rich Chinese Super League clubs who has recently attracted interest from Fenerbahce with his current deal set to expire next summer, reacted angrily to being informed that he had been nominated to undergo a random drugs test.
It was said that Ozil, reportedly frustrated with how many times he has been asked to go through that procedure this season, kicked a door in frustration before agreeing to the request.
However, addressing the issue during a press conference held in advance of Arsenal's Premier League pivotal clash with Manchester United on Sunday (7 May), an initially unaware Wenger claimed that the player's furious reaction was actually in response to what had transpired on the pitch.
"I am sorry that he kicked the door," he said, as quoted by The Mirror. "I don't think his frustration was towards the drug test, it was towards the game. I didn't speak to him about it because I only heard about it today."
Wenger replied that there was "no news yet" regarding Ozil's contract, while he admitted that he was "wrong" to claim that his own situation would likely be clarified in March or April.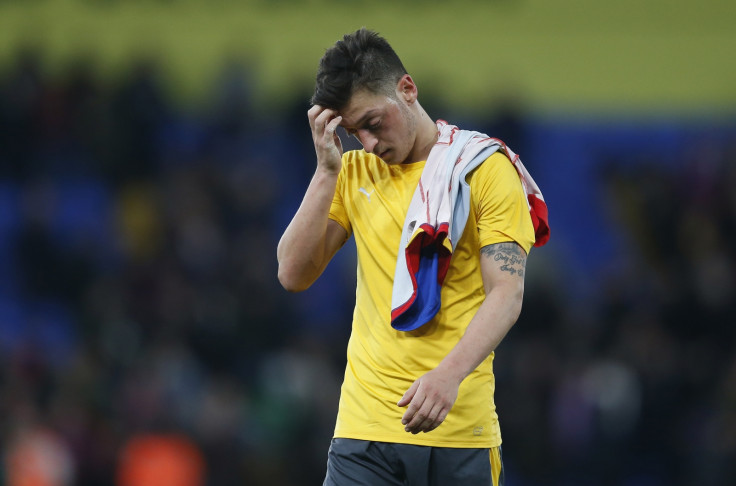 "I don't want to speak about my personal case any more," he added.
A more positive subject broached by Wenger before the visit of United was the recent form of Alex Oxlade-Chamberlain. The England midfielder, who has struggled with injury and inconsistency in the past, yesterday (3 May) saw off competition from Nacho Monreal and Alexis Sanchez in the race to be named as Arsenal's Player of the Month for April and the manager is encouraged by his success since being deployed in an unfamiliar wing-back position.
"His performances have been convincing and positive. It looks like he makes a move forward. He has all the qualities to play well there. Hopefully it will give him confidence."
On Oxlade-Chamberlain's contract talks, Wenger said: "Personally I think he has to commit his future to the club and I hope he will do so this summer."