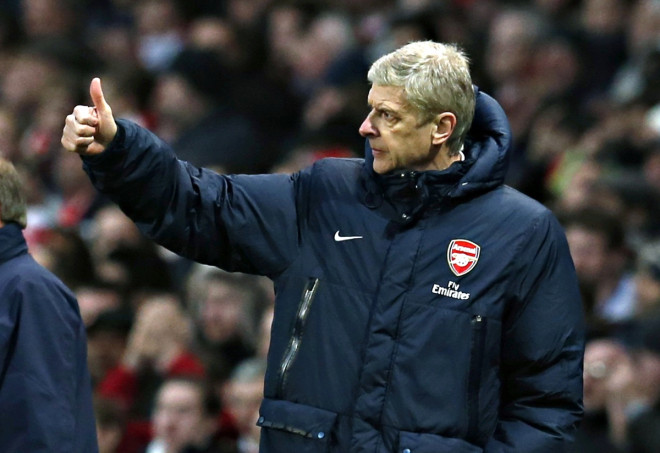 Arsene Wenger believes that Arsenal's progress into the FA Cup final will motivate them for more success in future.
The Frenchman was able to heave a sigh of relief as the Gunners overcame holders Wigan Athletic, 4-2, through the penalty shootout after the scores remained level at 1-1 after extra-time. Arsenal last featured in the final of the competition in 2005 where they beat Manchester United to lift the trophy.
Since their last silverware, the north Londoners have failed to win a single trophy and have a realistic chance to end the drought this campaign.
Wenger stressed that it was crucial for Arsenal not to get eliminated in the penultimate stage of the FA Cup as it could have contributed to a disastrous end to their season.
"[I am] Relieved because we were under big pressure because I expected a difficult game and I was not disappointed. It's important mentally that we didn't go out tonight. If you imagine the consequences of going out tonight, it's quite worrying," Wenger told Arsenal's official website.
"Yes, that's the most pleasing because everybody expected us [to progress] on that front. We have seen again today that it was a cup game and the difference between winning and losing is very, very small and this game has shown that again."
"But even if we had lost I would have said that we were at the mental level that I expected, and hopefully that win today will give us a lift for the end of the season," he added.
Arsenal will fight for glory against either Sheffield United or Hull City in the FA Cup final, to be played on 17 May.
The Gunners' focus now shifts to the Premier League where they currently sit fifth in the table with 64 points, trailing fourth-placed Everton by two points after 33 matches. Wenger's side must win all their remaining five matches while hoping Roberto Martinez's side drop points for them to stand a chance of being in the Champions League next season.
"For us it's important now to focus on the Premier League and if we do that well I'm confident we will come back. On top of that we have a target now for the end of the season. We have a final in the FA Cup but we now have a period where we can concentrate on the Premier League," the Arsenal manager concluded.