Arsene Wenger has hailed Theo Walcott's impressive form after the Arsenal forward scored a brace to lead the Gunners to a confortable 2-0 Champions League victory over Basel on Wednesday night (28 October). Meanwhile, the French boss also praised Alexis Sanchez as the Chilean international played a key role in both games while playing in his new position as number nine.
Having also scored a goal during the victory over Chelsea on weekend and the previous Premier League win over Hull, the 27-year-old prolonged the good run with a sensational Champions League night against the Swiss side. It took him only seven minutes to open the scoring before doubling the Arsenal lead in the 26th minute of the game.
Walcott recently revealed that a conversation with Wenger during the summer had helped him to find his best form again, following a disappointing last campaign.
"Me and the manager sat down and I've just looked at myself. There's no point dwelling on the past, that's what I'm like. I know what I can do and I don't mind what people say because I do know that as long as I work hard, I know what I'm going to be. It's just come down to that," Walcott revealed ahead of the game with Basel.
However, Wenger has now given all the credit to the player after he continued the good form against the Swiss side.
"It is not the chat [that I had with him] which makes you score goals. He assessed where he stands and then rectified what he had to add to his game. That's down to him, 95% down to him," the boss said. "The rest came from a first half of top quality, the pace, the quality of our movement, our technical quality. We created many dangerous situations."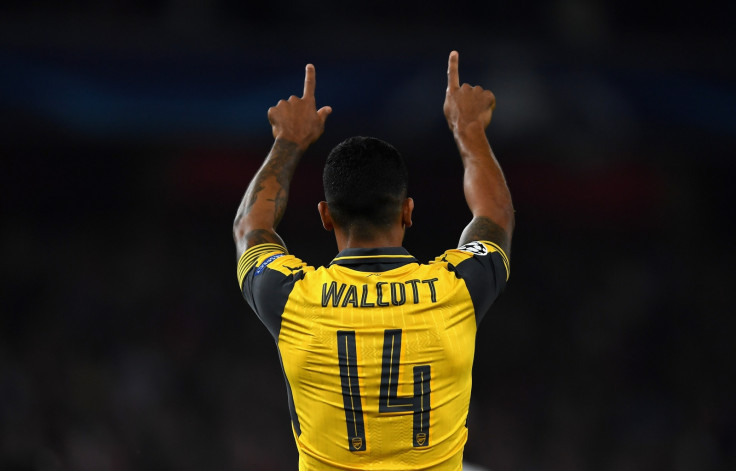 The French boss believes it is going to be difficult for the new caretaker England manager to "ignore" him ahead of the forthcoming World Cup qualifiers against Malta and Slovenia.
"The best recommendation is his performances. It's difficult to ignore him," Wenger added. "If you take the best English players and you see him playing the way he did tonight, it's difficult to ignore him. I will leave that with Gareth Southgate."
Sanchez also deserved some credit as the Chilean international assisted Walcott in both goals and was a constant treat for the Basel defence. The former Barcelona star said a number of times during his first years at Arsenal that he liked to play on the left flank rather than on the number nine role.
However he has impressed in the attack while covering Olivier Giroud's absence during the opening weeks of the campaign. Wenger hinted at keeping the Chilean up front ahead of the coming games.
"At the moment he looks like he has the ingredients to do very well there," Wenger said. "He's getting stronger in every single game."