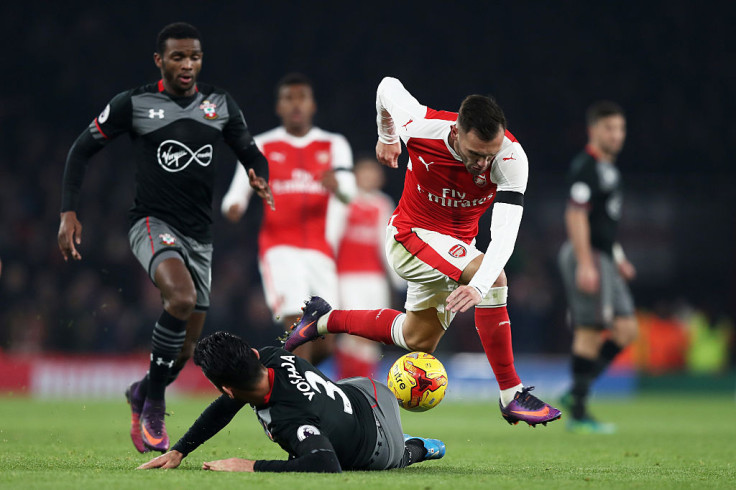 Arsenal manager Arsene Wenger has revealed that he has no regrets over his team selection against Southampton in the quarter-finals of the EFL Cup, where he made changes to the side which started against Bournemouth in the weekend. The north London club lost the tie 2-0 with both goals coming in the first half for the Saints, who dropped back and made it difficult for the Gunners to open them up.
Aaron Ramsey, Mohamed Elneny, Alex Iwobi and Francis Coquelin were the only four players from Arsenal's regular matchday squad in the first eleven, with Elneny having to be substituted in the first half owing to illness. The midfielder was replaced by Granit Xhaka, but a lack of pace and incision in their attack made it easy for the Saints to drop back and hold onto their lead.
Wenger has previously started youngsters in the previous two League Cup fixtures, against Nottingham Forest and Reading, but was caught out by the Saints, who were up for the task. The Gunners will now concentrate on the league, where they are currently in fourth spot and will play West Ham at the Olympic Stadium on 3 November, as they look to keep up with the other teams in the pack.
"I have regrets on having lost the game. I think we have played well until now and when you look at the players who have played tonight, some of the players who didn't play tonight were on the edge. When you look at the team we played, in midfield we had Coquelin, Ramsey, Elneny, afterwards Xhaka," Wenger told Arsenal's official website.
"Up front we had Lucas, Giroud was injured. We had Iwobi, who is a regular player in the first team. I don't think the problem was there - we had players who are used to top-level competition but I think we maybe didn't have the right urgency from the start on."