Arsene Wenger insists Hector Bellerin's long-term future is at Arsenal despite reported interest from Manchester City and Barcelona.
Bellerin, who left Barcelona's La Masia academy to join the Gunners in 2011, was linked with a return to the Nou Camp over the summer following Dani Alves' move to Juventus.
While the Catalan giants did not make an official approach for the right-back, the club's technical director Robert Fernandez did not rule out the possibility of the Spain international one day returning, as Cesc Fabregas did in 2011.
Meanwhile, City boss Pep Guardiola is 'desperate' to sign the Arsenal defender, according to The Independent, and believes a bid of £40m (€44.2m) could be enough to tempt Wenger into doing business.
The Arsenal boss is unconcerned by growing interest in his player, however, and suggests a new long-term deal could be forthcoming.
Ahead of Arsenal's Premier League clash with Swansea City on Saturday (15 October), Wenger told reporters: "He has nearly three years to go and we always try get the players to the level where we think they deserve to be," the manager said. "So we try to extend, certainly, his contract. For me, his long-term future is here.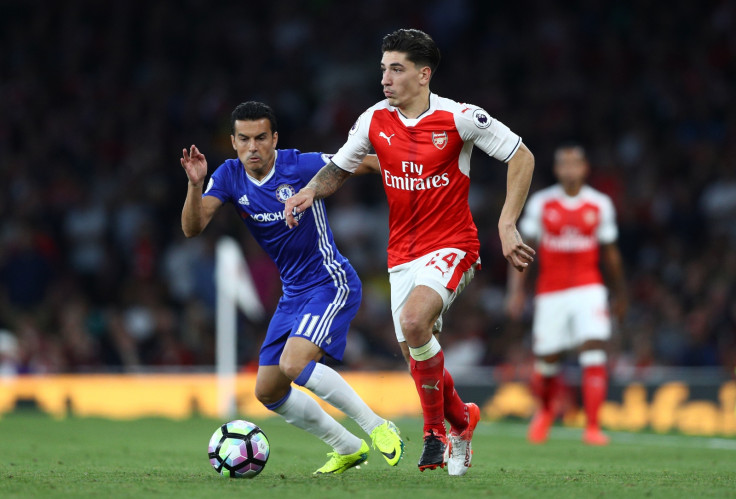 "What is important is that a player meets his needs where he is and his values, and I think he integrated very well with the values of our club.
"He came at a very, very young age of 16. I think he is a real Arsenal player."
According to the Daily Telegraph, Arsenal are prepared to double Bellerin's wages to an attempt to end Barcelona and City's interest. His current deal, reportedly worth £40,000 per week, expires in June 2019.