Francis Coquelin is fit to start for Arsenal when they take on Swansea City on Saturday (15 October), but Aaron Ramsey is set to miss out yet again even as he returned to training earlier in the week. The Frenchman was back on the field prior to the international break, which has given him sufficient time to rebuild his fitness and stake a claim for a place in the squad for the game against the south Wales club.
Coquelin suffered a knee injury during Arsenal's 3-0 win over Chelsea, and it was initially feared that the midfielder will miss an extended period of time. The injury was not as bad as expected and the midfielder returned to training just a week after the incident, but missed the games against FC Basel in the Champions League and the last gasp league win over Burnley at Turf Moor.
The 25-year-old started the season in fine form and was Arsene Wenger's preferred choice for the deep lying midfielder's role alongside Santi Cazorla. Coquelin managed to keep summer signing Granit Xhaka out of the team, but will now face a fight to gain his place back, with the Switzerland international impressing during his absence alongside the Spaniard.
Ramsey, on the other hand, has been out of action for the last two months after suffering a hamstring injury during the opening weekend loss against Liverpool. He was expected to be sidelined for just four weeks, but that has doubled with the midfielder only returning to training this week.
According to the London Evening Standard, the Wales international will not be fit enough to make the squad for the visit of Swansea, who are preparing for their first game under newly-appointed manager Bob Bradley. Ramsey faces a fight to claim his place in the first-team, as he is now behind Cazorla, Xhaka and Coquelin in the pecking order for a place at the heart of Arsenal's midfield.
'Mesut Ozil injury scare'
The German midfielder allayed fears of a possible injury after he was substituted at half-time during his country's 2-0 win over Northern Ireland on Tuesday (11 October). Ozil made it clear that "everything is all right" via his official Twitter account and Joachim Low confirmed later that he was withdrawn in order to give Ilkay Gundogan, who is returning from a long-term injury, game time to rebuild his match fitness.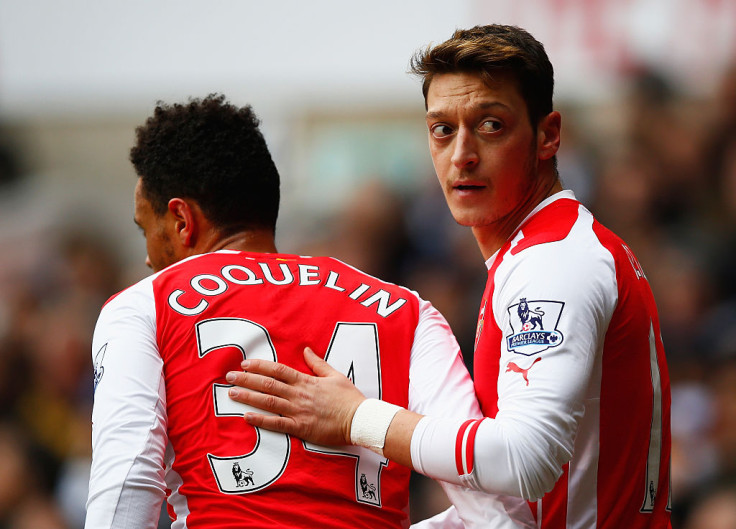 "I had thought about it a lot before the game, but I could see from training that [Gundogan] was still not completely at 100 percent. He still needs some more game time to find his very best form," Low said, as quoted by the London Evening Standard.