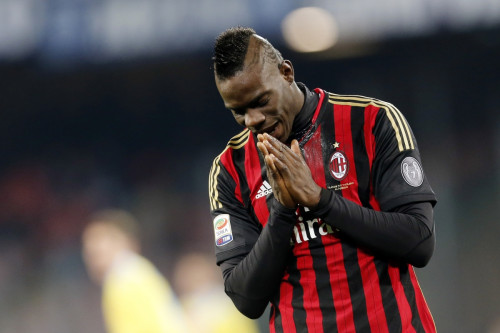 Arsenal manager Arsene Wenger has allegedly met AC Milan striker Mario Balotelli's agent ahead of a projected £25 million summer move to North London.
Wenger is searching for a world-class striker to ease the pressure on lone frontman Olivier Giroud who has appeared in all but two of Arsenal's 26 Premier League games this season.
Metro claims Wenger met Mino Riola, the Italian international's agent, in London on Monday to discuss the idea of a move to the Emirates in the close season.
There is speculation that Puma may help fund any potential move to Arsenal as they sponsor both parties.
Balotelli, who has scored 13 goals in all competitions for the Rossoneri this season, is said to be disillusioned in Italy after being targeted on several occasions for racist abuse.
The controversial forward was shown crying on the substitute bench during Saturday's match against Napoli after alleged racist abuse was directed towards him.
In a recent interview with Four Four Two, Balotelli revealed that he missed England for the fans but wasn't too keen on other aspects of English life.
"I miss England's fans, while I do not miss the food, or the weather, or the manner of driving a car."