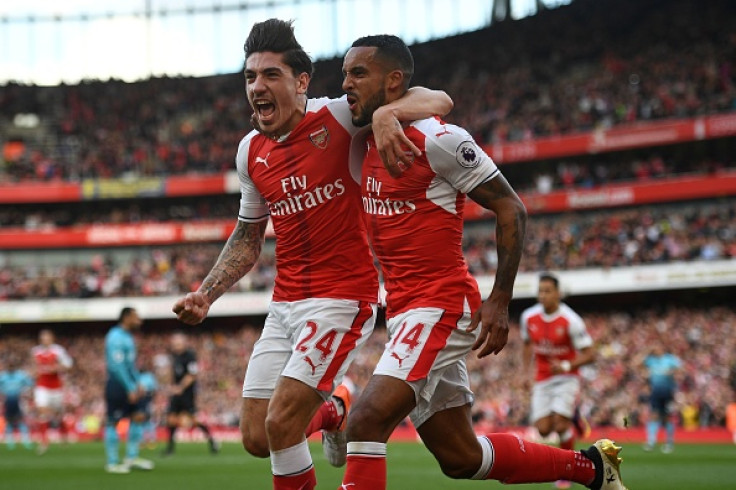 Arsene Wenger has heaped praise on Hector Bellerin after the defender signed a new long-term contract with Arsenal. The Spaniard has signed a new six-year contract at the club, rubbishing talk of a move to Barcelona or Manchester City in the future.
The 21-year-old burst into the first team in the 2014-15 season and has kept his place in the squad ahead of Mathieu Debuchy, who suffered a couple of unfortunate injuries that derailed his season. The Frenchman has struggled to get back into the team following Bellerin's emergence, who has gone from strength to strength and established himself in the PFA Team of the Year last season.
Wenger says Bellerin marries a rare combination of attacking style and defensive solidity, something he has managed to develop in the last couple of seasons, making him one of the best right-backs in Europe. The French manager goes on to say that Bellerin has worked really hard on his defensive shape and has the potential to be much better in the near future. The Spaniard is currently out of contention with an ankle injury he picked up against Tottenham.
"He has improved in his defensive responsibilities," the manager told Arsenal's official website. "You see him now save dangerous situations in the central area of the centre backs. We have seen that again against Tottenham where he made a tackle inside the box nearly on the left side, because he has that potential for covering runs that are fantastic.
"He's developed very well his defensive qualities and he is more offensive and much more decisive in his offensive game. His physical potential is absolutely huge, not only is he quick but he can repeat. He can put the volume and the intensity into his game and you do not meet that often in your career.
"He has integrated the values that are important and also, because he is a carrier of the values that are important for the club, I think he will be one of the strong members of this club in the future."