Hector Bellerin was one of a number of Arsenal players carrying knocks ahead of Tuesday's (3 January) Premier League clash with Bournemouth.
The Gunners found themselves 3-0 down after 58 minutes but goals from Alexis Sanchez, Lucas Perez and Olivier Giroud saw them clinch a vital draw on the south coast. Bellerin, 21, endured a particularly disappointing night at right-back but Arsene Wenger stressed post-match the Spaniard was an injury doubt right up until kick-off.
Arsenal's match at Dean Court came just two days after their win over Crystal Palace at the Emirates. Wenger insisted a number of his players were still carrying knocks from the busy festive schedule, including Alex Oxlade-Chamberlain who the Arsenal boss suggests would not have played had Francis Coquelin not been forced off.
"He [Bellerin] had a knock, he was uncertain to play," Wenger told the club's official website. "That is the problem when you have only 48 hours, you have to play some players who come out of a game like Crystal Palace [with knocks]. We had three or four players who we had to wait for the warm up to see if they could play."
Among those were Gabriel, who Wenger decided to leave out of his starting XI altogether with Shkodran Mustafi instead returning at centre-half. The former Villarreal defender was introduced in the second-half when Laurent Koscielny, another pre-match doubt, was unable to continue.
"We had Koscielny, we had Gabriel that I didn't start in the end because I was not in a position, and then I did not start Oxlade-Chamberlain because I did not take a gamble with him because I don't know who we have to take off. You cannot take the fresh player out but then you cannot, the players who have played 48 hours before, you cannot take them out. It complicates a lot, the job. But we have to shut up and cope with it."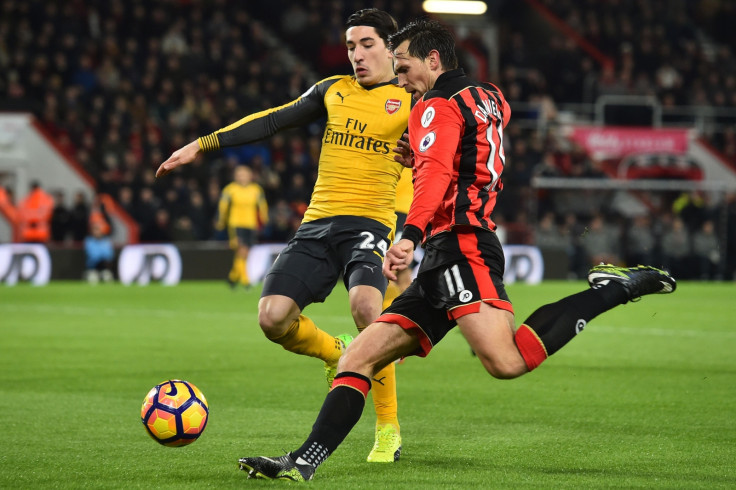 Koscielny was replaced after 64 minutes with Wenger explaining: "He was tired, he had cramps in both legs and that is why I decided to take him off."
The Gunners also now face a nervous wait to learn the extent of Coquelin's hamstring injury. "It is too early, you have to wait 48 hours for a scan to see. Usually when he sits down and comes up it is not so good news. It's just a tightness. The player tries to get on but he didn't even try to play again."