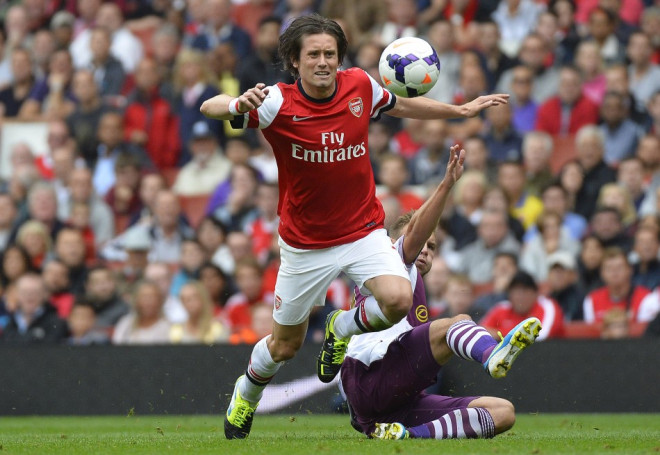 Arsene Wenger has revealed that Tomas Rosicky is set to sign a new contract with the Gunners when his current deal expires at the end of this season.
The Czech Republic international's stay at Arsenal has been cut short due to injuries but the 33-year-old is getting back to his best and epitomised the same with a valiant performance against Sunderland.
The midfielder scored a brilliant team goal, reminiscent of the one by Jack Wilshere against
Norwich and is likely to be a key player for the Gunners as the season culminates to a close.
Wenger chose Alex Oxlade-Chamberlain ahead of the midfielder in their Champions League tie against Bayern Munich, but Rosicky gave a good exhibition of himself against the Black Cats and is likely to keep his place in the side irrespective of the return of Mesut Ozil into the side next week against Stoke City.
The Gunners are currently second in the league, one point behind Chelsea in the league table. The win over Sunderland kept Wenger's team in sniffing distance of the title as they look to take maximum points from the next league fixture, with their next four games involving trips to White Hart Lane, Stamford Bridge and Goodison Park and a visit from Manchester City.
"Tomas Rosicky will stay. We have an agreement with him and it will come out soon. I am absolutely adamant he has to stay at the club. I think he is one of the players who plays the game of give and move. He is a great accelerator of the game. When the ball comes to him it goes into second gear and that is something I admire in him," Wenger said.
"He always makes things happen, not with individual dribbling but with individual acceleration of his passing and of his runs. I think when he arrived here he was a less tactical player and more like Mozart, who is also from Prague, he was a purely creative and offensive player.
"Today he is a real organiser on the pitch as well. I like to have him in the team because he gives a real structure to our team," he concluded.