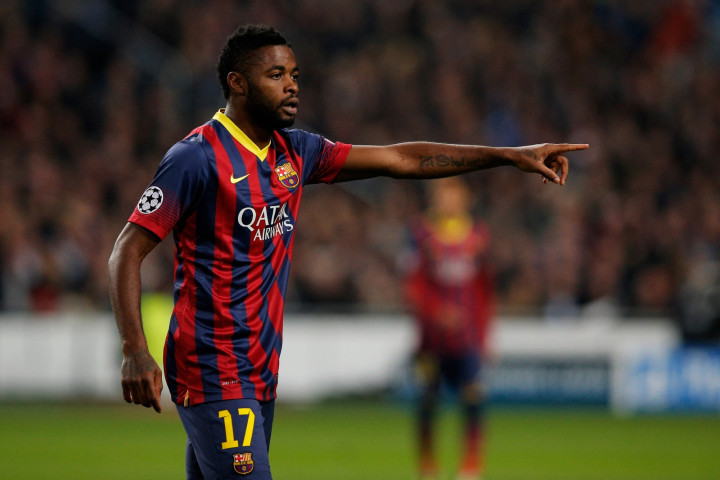 Arsene Wenger has hinted he is still looking to strengthen areas of his Arsenal squad, other than up front, but has ruled out a move for former midfielder Alex Song.
The Gunners' qualification for the group stages of the Champions League following a 1-0 victory over Besiktas on Wednesday was overshadowed by the news that Olivier Giroud has been ruled out for up to four months due to a broken tibia.
Danny Welbeck, who has been told he can leave Manchester United before Monday's transfer deadline, and former Birmingham City striker Nikola Zigic, were linked with moves to the club. But Wenger quashed rumours of interest in the pair following Wednesday's victory at the Emirates.
The Gunners boss played down the club's need for another striker – pointing to the influence of Alexis Sanchez, who scored his first goal for the club last night – but insisted the club were open to making additions to any area of the team, providing they are of the right profile.
"We are open for any position as long as we feel the player can strengthen the squad," Wenger said, the club's official website reports. "Buy to buy, I don't see the purpose of that. If we find the players who we feel can give something to our squad, we will do it in any position. But we are open but it has to be enough to buy, it has to make sense. "
Midfielder need at Arsenal
With Mikel Arteta currently sidelined, a holding midfielder is a position thought to be of concern to Wenger.
Song, who has been told he is free to leave Barcelona this summer, has since been linked with a return to his former club, particularly following Sami Khedira's decision to remain at Real Madrid amid strong interest from the Gunners.
A number of Premier League clubs are reportedly prepared to offer the Cameroon international a route back to these shores, with north London rivals Tottenham considered favourites, but Wenger has firmly ruled out a north London homecoming for the 26 year-old.
"Alex Song will not be coming back," Wenger told reporters.
The Arsenal boss was also quizzed on the possibility of a move for Radamel Falcao, who will consider leaving Monaco just one season on from his £50m ($82.9m, €62.9m) move from Atletico Madrid. But while the Colombian may be available before the transfer window closes, Wenger confirmed the striker is not in his price range.