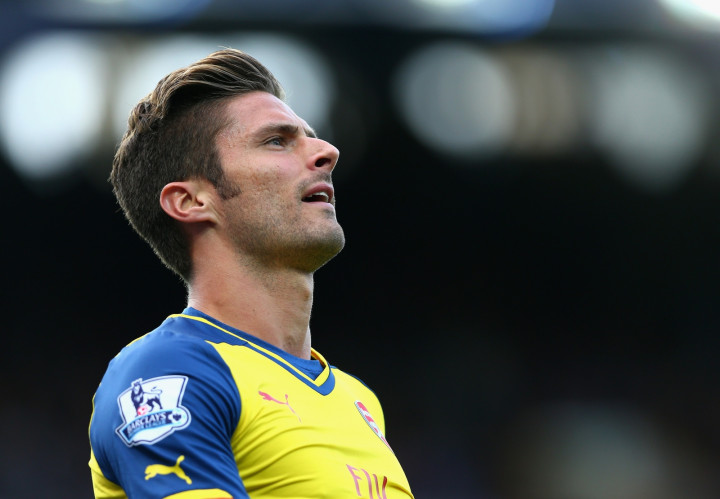 Arsenal manager Arsene Wenger has confirmed that striker Olivier Giroud will miss the next four months with a broken leg suffered in the weekend draw against Everton.
Victory over Besiktas in the Champions League play-off which sees the Gunners into the group stage for a 17th consecutive season was overshadowed but news of Giroud's injury which rules him out until December.
"Giroud has surgery today [Thursday] on a broken tibia and he will be out for three to four months," the Arsenal boss said. "That's on the competition side. He will not play again for four months but could be back in two, to play in December.
"You will ask me who will we buy and I will give you an answer straight away and at the moment nobody."
Wenger was later questioned regarding Arsenal's reported interest in ex-Birmingham City striker Nikola Zigic, out of favour Manchester United forward Danny Welbeck and Monaco's Radamel Falcao but denied any knowledge of possible future deals.
Despite having signed four players during the summer transfer window, Wenger is being urged to reinforce all areas of his squad, with Giroud's Ienghy spell out only highlighting the need for new players.
But Wenger, who has a reputation for economic frugality, will not be forced into signing players, particularly those not right for the Arsenal philosophy.
"If you want to make anyone happy you just buy all those players but what is important is what happens on the pitch and the solidarity we have shown tonight [in winning 1-0 with 10 men after Mathieu Debuchy's red card]," he added.
"We are open for any position as long as we feel the player can strengthen the squad. I don't see the purpose of that [ruling out a player based on position]. We are open for any position but not desperate for any players."