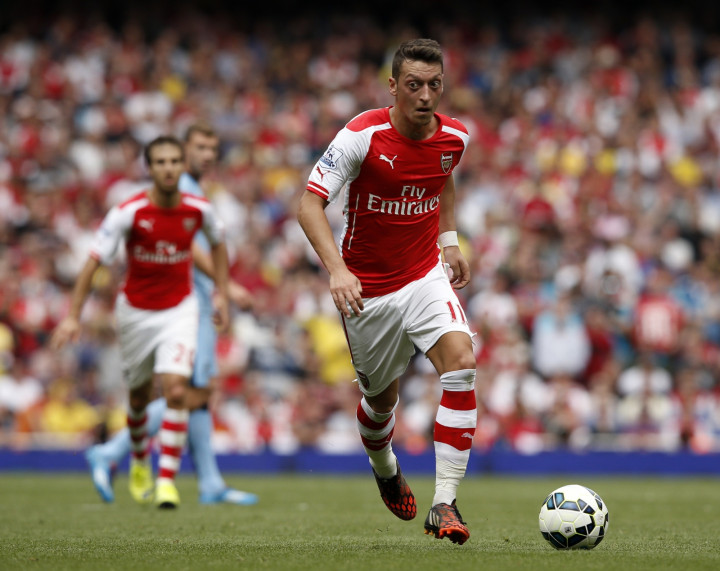 Arsene Wenger has confirmed that Mesut Ozil will not be back in action before January and that the recent setback was due to an injury he was carrying from the World Cup.
The talismanic playmaker is out with a knee injury he sustained in October, adding to Arsenal's injury woes which have shown no signs of abating. Mathieu Debuchy and Laurent Koscielny are the other players currently sidelined, but Wenger will be relieved to see Theo Walcott and Olivier Giroud back in full training, with the former having made two substitute appearances in the Premier League.
Walcott missed more than 10 months of football owing to a cruciate ligament injury he sustained in January, an incident which went a long way in derailing Arsenal's season. Ozil and Walcott had shown a brilliant understanding for the period they were together and Arsenal fans will be hoping that the German can step up his recovery process and lift the Gunners from their current situation.
"He will not be back until January. He came back from the World Cup with an injury. He had a very good first season with us. I think we will see the best of Ozil in the seasons to come," Wenger stated.
The announcement comes days after Ozil had himself chalked his recovery plan where he had stated his inability to return to first team action before the end of the year.
Meanwhile, the Gunners need to step up their play, having failed to live up to expectations after what has been a brilliant end to the last season. The Gunners ended their nine season trophy drought by winning the FA Cup and followed that up with the signing of Alexis Sanchez from Barcelona.
The Chilean has performed admirably during his time at Arsenal, but has failed to get any support from his teammates, who are out of form and struggling to lift Arsenal to their desired level.
The Gunners host Manchester United at the Emirates on Saturday and Wenger will be hoping that a good performance here will go a long way in silencing the critics and getting the belief back among the players.