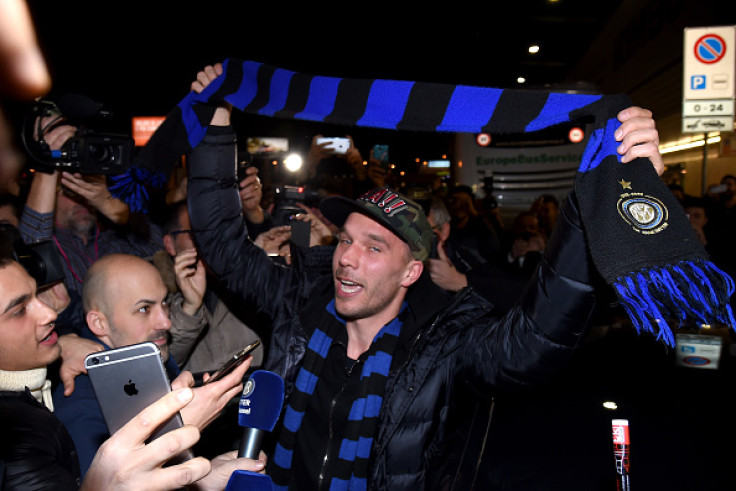 Arsenal forward Lukas Podolski has criticised Arsene Wenger following his loan move to Inter Milan earlier this month.
The German international striker, who struggled for a place in the Gunners' starting XI this season, has lashed out at the manager for what he called lack of respect just before his departure for Italy.
It is doubtful if Podolski will ever don the Red and White of Arsenal following his statements regarding the manager and despite being on loan, it is likely that the former Cologne player has played his last for the north London club.
The German forward revealed that all he wanted was a proper goodbye, but received nothing from Wenger, not even a call to wish him when he left.
"He [Wenger] said nothing to me. He did not call me or say goodbye. I don't need flowers or a kiss from him. But it is about respect, about saying goodbye. For me respect is important. Maybe he had other problems with me," Podolski is quoted as saying by the Guardian.
The 29-year-old striker failed to start even a single Premier League game this season for the Gunners and his two starts in the first half of the campaign came during the league cup defeat to Southampton and in the Champions League win over Galatasaray.
"When you don't get a chance you cannot show what you can do and the last five months I hardly played," the German World Cup winner added.
However, the Arsenal manager has categorically denied these claims and revealed that he had spoken to the striker "many times" in the past month. Wenger also made it clear that, despite wanting to keep him at the club he sanctioned the loan deal.
"I deny it completely. We spoke many times. I had many conversations with him. Without my agreement, he couldn't go on loan," Wenger added.