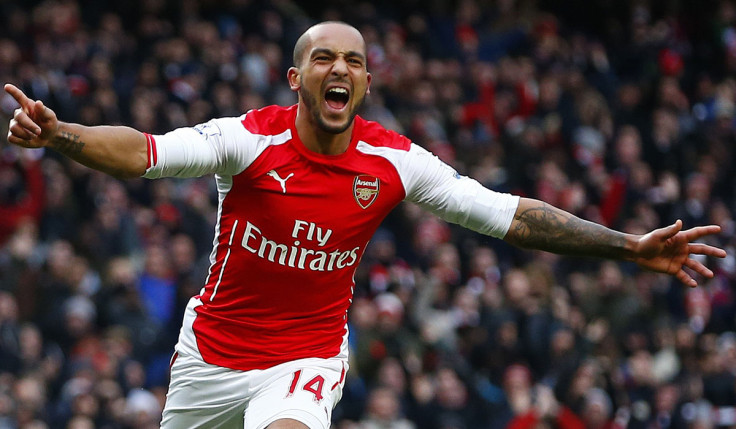 Wenger has hailed Theo Walcott as one of the best players in the world and expects the 25-year-old to deliver when at White Hart Lane on Saturday, especially with Alexis Sanchez set to miss out with a hamstring injury.
The forward missed a year of action after rupturing his anterior cruciate ligament against Tottenham in the third round of the FA Cup last January, but is back in full rhythm after scoring on his first start in the league.
Walcott jumped on the end of a through from Santi Cazorla and curled it past a diving Brad Guzan to give Arsenal a three-goal lead and ostensibly put the game past Aston Villa.
A similar performance against Tottenham will pull Arsenal above Manchester United for the time being, and also secure a five-point gap between themselves and their north London rivals.
With Liverpool also back in form, the Gunners have to win this game to open up a gap between themselves and the trailing band, especially with European action set to resume this month. Wenger believes that Walcott's pace and intelligence to make runs beyond the defence will be a decisive factor in the race for a Champions League spot.
"Theo's first quality is the quality of his reception. The timing of his runs, and the area of where he gets the ball," Wenger said.
"The timing and the movement is absolutely exceptional - one of the best in the world, with the timing of his movement and where he goes. When I say quality of receptions, it's the area where he will get the ball.
"In that, he is certainly top, top, top, because he has the pace behind it as well. I think he is not completely there yet. It's normal because he's been out for a year but you can see week after week, he gets better.
"I think just before he was injured, he was the best Theo I have ever seen. He had a good balance between being physical, using his pace, and the quality of his finishing had improved tremendously.
"When he scored the goal on Sunday against Villa, you can see he's a great finisher now," he concluded.