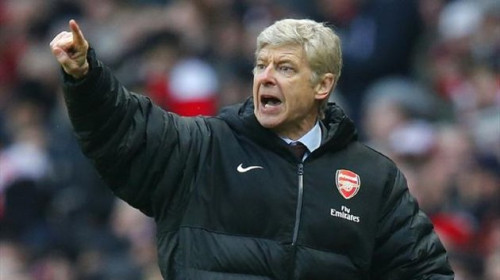 Arsenal manager Arsene Wenger believes Manchester City's 'jaded' performance against Chelsea is a clear indication that there is no immediate favourite for the Premier League title.
City's rampant winning streak prior to Monday night had many identify Manuel Pellegrini's side as the best in England, despite Arsenal's position at the summit of the league.
But Branislav Ivanovic's goal gave Chelsea a thoroughly deserved victory to end City's undefeated form at the Etihad Stadium and reduced the gap between the Premier League's top three to just two points.
As he side chase their first Premier League crown in 10 years, Wenger insists his side are just as strong favourites for the crown as Chelsea and City are.
"It (the title race) is never as simple as everyone predicts it," Wenger told Arsenal's official website. "I said a long time ago that nobody will be absolutely above the others. It will be down to consistency.
"Chelsea looked always dangerous and Man City looked for me a bit jaded. They were not as fluent or as strong physically as they were at Tottenham but it could have gone to 1-1, it could have 2-0 for Chelsea.
"At the end of the day, they (Chelsea) had 45 per cent possession with 25 shots on goal so sometimes that can be a 1-1 (draw), but I must say Chelsea had opportunities for the 2-0 (win).
The greatest tests of Arsenal's title credentials will take place over the next six weeks. The Gunners travel to Anfield on Saturday before welcoming Manchester United to the Emirates ahead of their FA Cup fifth round clash with Liverpool in the space of eight days.
Champions League last 16 meetings with Bayern Munich will be a further test of the strength of Wenger's squad with a run of fixtures against Tottenham (away), Chelsea (away), Manchester City (home) and Everton (away) awaiting following their return leg in Munich on March 11.
"This is the period, January, February, March – where every game is a battle for everybody because everybody fights for something," Wenger continued.
"We have to look at it as a challenge and play with the serene attitude we have shown and the intelligence as well. You have to look at his period as one game at a time and do not consider too far ahead."