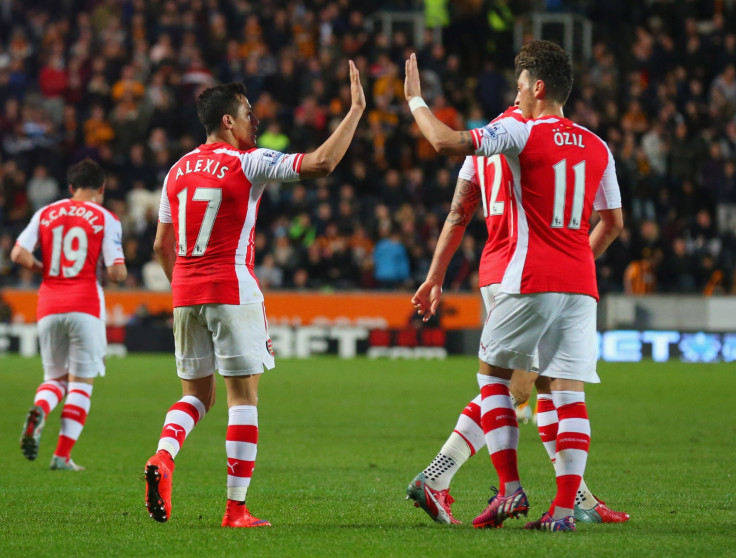 Arsene Wenger believes Mesut Ozil has the capability to add more goals to his repertoire as he is a good finisher, but does not quite take the chances when they are presented to him.
The German scored one and assisted two against Lyon in Arsenal's 6-0 drubbing of the Ligue 1 side and Wenger believes that there is more to come from the playmaker this season. Ozil was among Arsenal's best players in the second half of the campaign after missing a major part of the first half through injury and fatigue following his participation in the World Cup.
Ahead of their Community Shield game against Chelsea, Wenger urged the player to score atleast 10 goals in the 2015/16 season so that they can close the gap on the champions.
The manager praised him for his intelligence and creativity in the final third, which won the Gunners a lot of points, but insists that his position on the pitch allows him to open up a different dimension, which he can use to his advantage.
"He shows more authority to dictate the game than before. In the second part of last season we saw the intelligence of his passing, the fact that he added some steel to his game, which was needed, and I'm confident that he can be one of the great players of 2015/16," Wenger told Arsenal's official website.
"You can see that people have turned in favour of him recently and he is starting to enjoy his game. He plays in the heart of the game, and these kinds of players have an importance and can be efficient in helping us score goals," he added.
"I also want more goals from him because he plays in a position [high up the pitch] and he's a good finisher. He doesn't take enough chances when he's in a position where he can finish. He's conscious of it and he wants to do it now.
"His main aspect will always be the intelligence of his passing and his creativity, but he gets into positions where he can finish better and we want 10 goals per season from him," the French manager said.