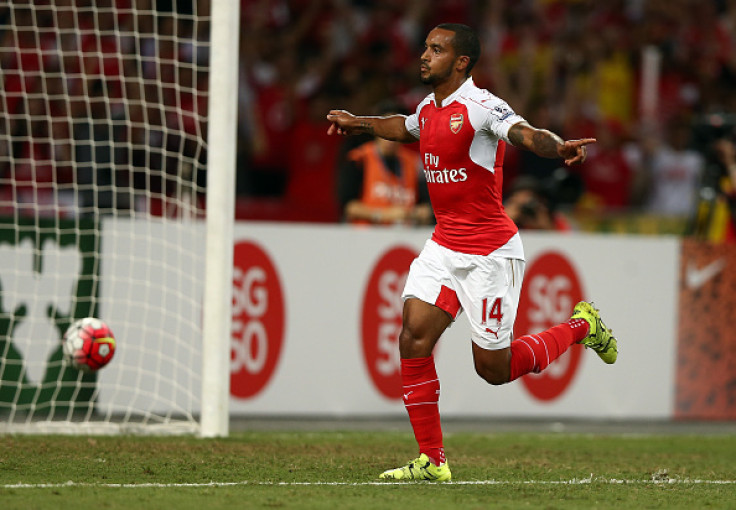 Theo Walcott believes that their impressive start to their pre-season campaign has raised a positive vibe across the whole squad which will help them reach their potential and achieve something special in the upcoming campaign.
Arsenal face defending Champions Chelsea in the Community Shield on Sunday (2 August), an opportunity awarded to them following their FA Cup triumph against Aston Villa last season. Arsene Wenger has a bitter history against Jose Mourinho, with the Frenchman failing to get the better of the Portuguese manager in 13 attempts, a statistic he would like to put behind him at Wembley.
Walcott, who has just signed a new long-term contract with the Gunners, has been in good goalscoring form in pre-season and the end of last year's campaign, and will be expected to start against Chelsea, who have not been at their flowing best thus far.
While Arsenal scored 14 goals in their last four pre-season games, winning all four, Chelsea lost their game against the New York Red Bulls and won on penalties against both Paris Saint-Germain and Barcelona.
However, as much as it will be a major boost for either team winning the game, it will not be true representation of how they will perform in the season ahead, as was demonstrated by the Gunners following their 3-1 win over Manchester City last season in the same tournament.
"It's going to be very tight and I think both squads have improved," Walcott told Arsenal's official website.
"Chelsea will grow as well but I think the way that we ended the season, just the whole culture around the club now and everything about it, there's just something special that will happen this year.
"Some people will think it's just another pre-season game but us players want to go out and win every game we can.
"A lot of kids dream of playing at Wembley so you've always got to take it in, put 100 per cent in and I will, like all my team-mates will do too. We won't want to let our fans down because they're going to make the game special for us, I'm sure.
"It's important to actually put out a message to the Premier League that we're ready this year, against the title champions. We did it last year against Manchester City so there's no reason we can't do it again," he added.