Arsene Wenger has made it clear that Alexis Sanchez will not be sold to a Premier League rival this summer even if he does not agree to sign a new deal. The French coach is willing to allow him to leave on a free next summer when his current contract expires.
Arsenal and the Chilean's representatives have been locked in talks over a new deal since the end of last year, but are yet to reach an agreement. Sanchez has stated his desire to remain in London but admitted that he wants to play for a team that challenges for the title.
The north London club are going through one of their worst phases in recent history and are not only far from challenging for the title but are also in danger of missing out on a place in the Champions League for the first time under Wenger. The Gunners' boss, however, is confident that the former Barcelona forward will extend his deal after revealing that it is not about the desire to stay but a contractual disagreement that is holding up the deal.
Wenger admitted that money was one of the reasons for the lack of an agreement thus far, while refusing to confirm reports that Arsenal had made an offer to pay the forward £300,000 a week ($384,540). Manchester City, Manchester United and Chelsea have been touted as potential destinations, but the manager made it clear that they have no intention to strengthen their rivals.
"I personally think he will stay and sign. First of all he is happy here, his desire is to stay, and that is what I deeply believe," Wenger said ahead of Arsenal's game against Leicester City on Wednesday (26 April), as quoted by the Daily Mail.
"Yes. I don't think that we would sell him to any Premier League club, that is for sure. Why not? The question is why would you sell him to another club? You want to be as strong as you can be and not strengthen the other teams.
"But as I have said, I think he will stay and sign a contract. The disagreements are more purely contractual, not about the desire. Both parties have the desire to find an agreement so I think it will happen," the French coach added.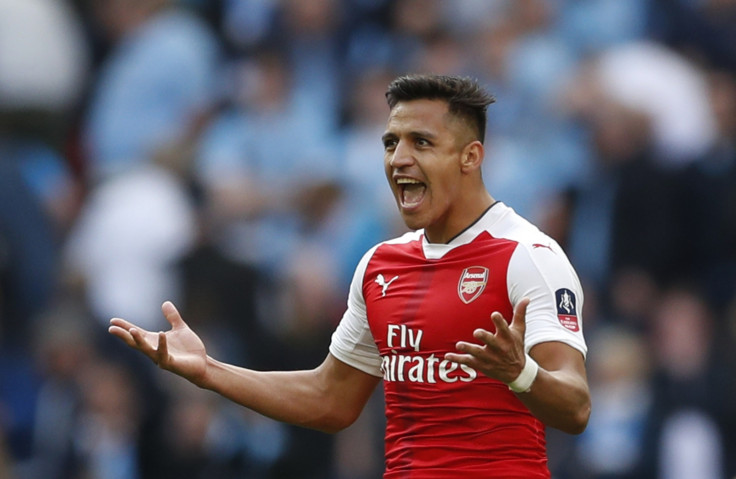 Sanchez has been impressive again for Arsenal this season scoring 24 goals and assisting a further 18. He has contributed with two goals and three assists to help the Gunners reach their third FA Cup final in four years, and will have to play an important role in the club's final seven games of the Premier League campaign if they are to achieve a place in the top four and the Champions League next season.