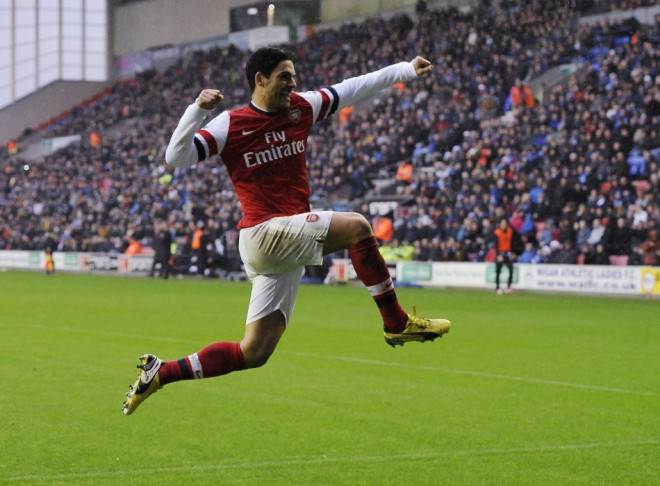 Mikel Arteta believes that his ability to convert the second penalty was the turning point in the game.
The Spaniard was asked to retake his penalty after Olivier Giroud was charged with encroachment by the referee, leaving the Arsenal fans baffled.
The Gunners were still being haunted by Mesut Ozil's penalty miss against Bayern Munich a few weeks back and when Arteta was asked to retake the penalty, he had successfully slotted in, there was a sense of a deja vu floating around the Emirates.
However, unlike Ozil, Arteta calmed the nerves with a precise penalty into the roof of the net, which the goalkeeper had no chance of saving. Alex Oxlade-Chamberlain won the penalty after a tenacious run into the box which gave Arsenal the lead late into the second half.
The north london club stepped up a couple of gears following the introduction of Olivier Giroud, who scored a brace to confirm Arsenal's first trip to Wembley since that grulleing loss against Birmingham in the final of the Capital One Cup.
"It was a massive moment but I'm happy that I scored. It was (a turning point). We knew they had to attack and on the break we would have the chances to score and we took it. It would be amazing to (win). We have a good chance. We're in the semi-final at the moment," Arteta said.
"Overall we dominated the game and had the better chances but Everton are a good side and when they broke in the first half they scored a goal. Overall we are happy to be at Wembley," he added.
Meanwhile, Roberto Martinez was not happy with the decision as he thought that the contact was soft and Chamberlain made most out of the situation.
"They are difficult decisions and sometimes you have to be a bit lucky for them to go in your favour. It was clear that the second goal was going to completely change the game and that was the case. I still feel the penalty was a very soft call but I can see why he made it. It's very important in the final outcome of the game," Martinez explained.