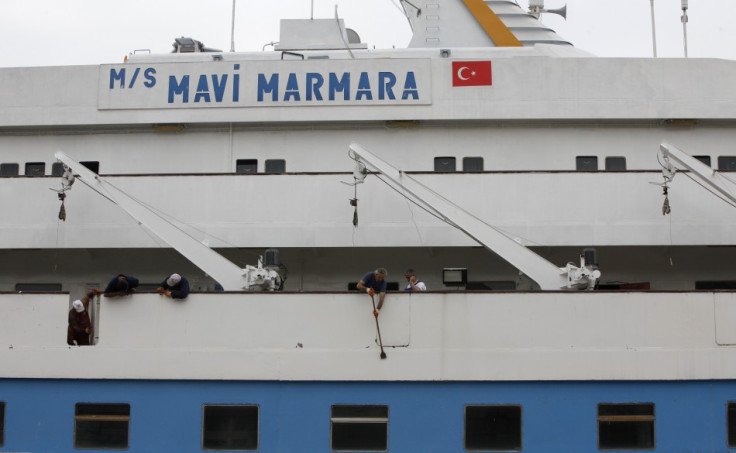 The Mavi Marmara, the Turkish aid ship that clashed with Israeli soldiers on the way to Gaza last year triggering a diplomatic storm, has pulled out of a repeat voyage later this month, the Turkish charity that owns the ship said Friday.
The decision came two weeks after Turkey's government asked the flotilla to delay its voyage and amid signs of efforts by Turkey and Israel to stabilize their relationship in the face of growing turmoil in Syria.
The rest of the flotilla will leave without Turkish ships around June 25, organizers said, with the goal of "completely and permanently" ending Israel's blockade of Gaza.
On Friday, at a press conference, Bulent Yildirim,the president of Turkey's Humanitarian Relief Foundation, (IHH), denied that the decision not to sail with the flotilla was due to government pressure. "It is purely due to technical problems," which were caused by damage Israel inflicted on the Mavi Marmara after seizing it last May 31, he said.
During their intervention, Israeli soldiers shot dead eight Turks and one U.S. citizen of Turkish origin, consequently further damaging its relationship with Ankara.
Mr. Yildirim also insisted that due to financial restrictions, the IHH resources decided to focus on helping refugees along Turkey's border with Syria, where the charity began delivering aid this week.
However political analysts have now widely dismissed the IHH explanations. Following the wave of unrest affecting the region, especially with Syrian refugees who have ties with the Kurdish communities crossing the borders, the government, the government, fearing a clash back, has decided it should recalibrate its foreign policy to fall more in step with Western allies and pro-democracy movements.
"Of course the IHH will put forth some excuse ... because they cannot come out and say 'the government told us to'," said Ilter Turan, professor of political science at Istanbul's Bilgi University.
"Unpredictability in the Middle East is making Turkey feel the need to get closer to the [Western] allies, as it has done in Libya and now in Syria. So I would not be surprised if Turkey tones down its conflict with Israel." he added
On June 6, Ahmet Davutoglu Turkey's foreign minister called on the flotilla organizers to postpone the voyage until it was clear how the situation in Gaza would change as a result of Egypt's decision to open the Rafah crossing and the creation of a Palestinian unity government. Previously he had rejected U.S. and Israeli pressure to intervene.
Israel welcomed the Mavi Marmara's postponement Friday. "Of course, I think it would be better if the whole idea would be abandoned,'' said Mark Regev, a spokesman for the prime minister, before adding that Israel would like to see improved relations with Ankara.
The Mavi Marmara has been in Istanbul dockyards undergoing repairs and for three months and analyst point out that just a week before Mr. Davutoglu's call for a delay, the IHH had held a launch event on board the ship, announcing its participation in the second flotilla.
Mr. Yildirim acknowledged Friday that a second, undamaged cargo ship the IHH had planned to send also would not join the flotilla now. "We are not saying the Mavi Marmara won't be sailing.
The Mavi Marmara will sail [when it is fixed] and the cargo ship will sail with it," Mr. Yildirim said, before confirming that some IHH members would join the other flotilla ships at the end of the month, but he wouldn't go.
Despite the setback, other leaders of the 22 organizations involved in the flotilla said on Friday that they hoped to sail a total of 15 ships although only 10 ships are for now ready.
"The fact the Mavi Marmara will not take part will mean that Israeli misinformation that the Freedom Flotilla is a Turkish or Islamist flotilla will be completely exposed," said Dror Fieler, a flotilla leader from Sweden who also took part last year.
"What we are trying to tell people is that Zionism is oppression," said Mr. Yildirim. "Sooner or later, the Mavi Marmara will sail."
In a last attempt to dissuade the activists, Israeli military officials have made it clear that they will intercept any ship heading for Gaza, as they insist the embargo is necessary to prevent weapons from reaching militant groups based in the strip. One senior Israeli military official told foreign journalists this week: "No ship will get into Gaza."
Israel eased its embargo on Gaza in the wake of last year's assault on the flotilla. However, import restrictions remain in place on a number of goods, including much-needed building materials. With a few minor exceptions, Gaza businesses are also barred from exporting their goods through Israel.
On Friday a senior military Israeli official reportedly told Sky News: "We'll do anything that we have to stop these ships breaking a security maritime blockade."
Despite growing fears that Israel will not hesitate to use live ammunitions on activists once again, most organisations are not deterred and affirm they will be present.
"What's important is that when we get to Gaza we can continue to support the work that is being done there. But first and foremost we need to break the Israeli blockade." said John Ekebjærg-Jakobsen, a scaffolder and member of union 3F.
"The Israelis know we are coming but we don't need their permission to sail to Gaza," Adam Qvist from Free Gaza said before adding: "We are going to sail from international waters into the Palestinian waters and Israel doesn't have the right to stop us there."