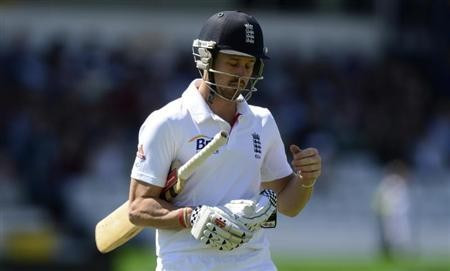 The first Ashes test between England and Australia was a true sporting blockbuster from start to finish. In the end Australia came only 14 runs away from one of the greatest and unlikeliest test victories, before the hosts were saved by fantastic fast bowler James Anderson as he took the wicket of Brad Haddin and the man of the match award in the process. But the nail-biting conclusion was only the crescendo to what was an at times exhilarating and absorbing five-day chapter in cricket's most famous rivalry.
Unfortunately the majority of the public only saw a fraction of the contest, with 1.5m viewers tuning in to Channel 5's highlights package over the 1.3m that saw the test broadcast live on Sky Sports. As IBTimes UK sports writer Nick Howson notes, "A bit like only reading the synopsis for War and Peace, the highlights provide a fleeting background to the most detailed of page turners; an inadequate abridgement rather than a depth of knowledge".
No matter how much more drama this series contains (likely a lot), the fact remains that the 2013 Ashes is never going to capture the public imagination in the same way as it did in 2005, because it is not on free-to-air television.
Sky Sports and the ECB
An independent review in 2009 called for Ashes cricket to re-join the ranks of other national sporting events, such as the football World Cup, Wimbledon tennis and the Olympics; that are protected for live broadcast on free-to-air television. This was promptly snubbed by Sports Minister Hugh Robertson once the Coalition came into power, a move that no doubt delighted Rupert Murdoch.
Free from government protection, his Sky media juggernaut has the resources to financially outmuscle the public service broadcasters to get popular sports on their pay-TV service. From football to formula one, the broadcaster has taken away major national sporting events to the detriment of the British public.
Of course many would argue it's not practical for sports such as cricket to be forced onto free-to-air channels, especially with the lucrative financial benefits involved. The England and Wales Cricket board will reap £260m from Sky's four-year contract, an amount rights-holder experts claim is twice what a public service broadcaster would be willing to provide, and viewed as vital to continue the funding of county cricket and the grassroots game.
But if ECB chairman Giles Clarke could look above the looming piles of cash Murdoch has stacked on his table, he might notice that by having cricket in this country restricted to those willing to pay and the sports elite, its influence, and appeal to the general public, will start to wane. A total of 7.4m people watched England reclaim the Ashes for the first time in 18 years when broadcast on Channel 4 in 2005, but less than 2m saw England regain them on home ground when shown on Sky four years later. With no form of the game available live on terrestrial television, cricket in this country is becoming invisible.
One fears that in our cash-strapped times if those running sports continue to see the numbers first and think of the consequences later then more of our national institutions could soon be lost from our screens. Would Andy Murray's triumph at Wimbledon have had the same national impact if it was exclusive to Sky? Who would recall Super Saturday with such affection if the exploits of Jessica Ennis, Greg Rutherford and Mo Farah inside the Olympic Stadium had only been viewable on pay-to-view television? Because of its absence on free-to-air TV, cricket will go from being a national sport to a minority one. England may have the Ashes, but Sky has stolen cricket's soul.
Alfred Joyner is news producer at IBTimes UK.