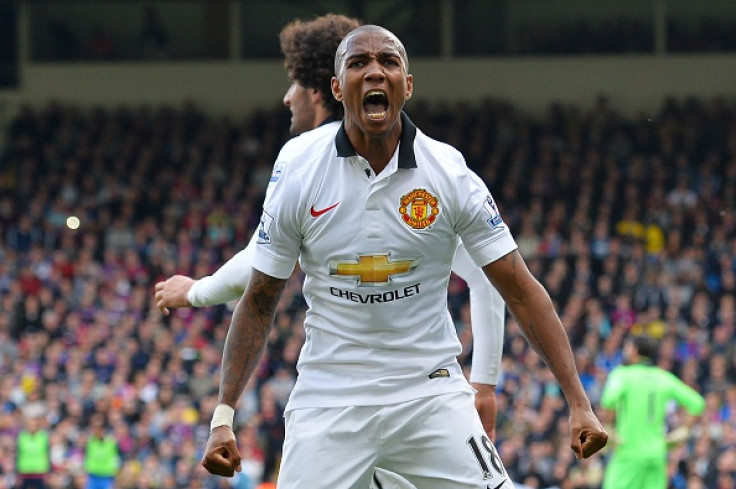 Ashley Young has hailed David De Gea and claimed the Spaniard's heroics helped Manchester United seal three points against Crystal Palace.
Juan Mata gave a lead to the 20-times English champions in the first half after he converted from the spot kick. Louis van Gaal had to make two changes very early in the game after Luke Shaw was stretchered off the field, while Wayne Rooney was replaced after the break.
Jason Puncheon's free kick helped Palace equalise in the second half. However, it was Marouane Fellaini's header from Young's cross that helped United seal a crucial 2-1 victory at Selhurst Park.
De Gea made key saves, especially in the second half, which allowed United to stay in the game. The former Aston Villa said the 24-year-old stopper "spurred" United to score a winner against Palace.
"He's been making save after save for us and that one today was vitally important. Maybe that spurred us on to get the winning goal. It was fantastic and I thanked him after the game," Young told United's official website.
"We went in 1-0 up and we knew they were going to come out in the second half and put us under pressure. They did that for pretty much the whole of the second half. We had to dig deep and defend as team, and that's exactly what we've done."
"That's the way we play – that's the Manchester United way. The team spirit, the character that we've got to keep ourselves going. The big man [Fellaini] got himself in the box and got on the end of one of our crosses," he added.
"We're delighted to get that goal. Everybody was celebrating together and I think the bench went crazy as well. After the game, the scenes in the dressing room were fantastic."
The latest win has seen United sit fourth in the Premier League table with 68 points from 36 games, leading fifth place Liverpool by seven points. The Reds have a game in hand and they face Chelsea on 10 May.
A defeat for Brendan Rodgers' side against the newly crowned Premier League champions will see United finish this term in top four.