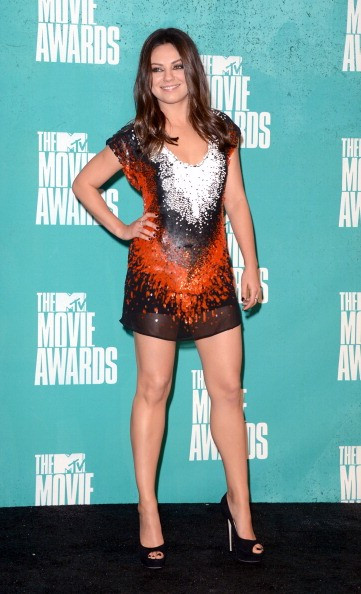 The latest entertainment reports suggest Hollywood actress Mila Kunis may have moved in with reported boyfriend Ashton Kutcher.
"They're basically living together. Like any new couple in love, they're pretty much joined at the hip. They've been sneaking around for months but there's only so long you can keep it quiet. They're staying with each other most nights. Mila's practically moved in to Ashton's Hollywood home," a source told The Sun. The report also has them enjoying bike rides together and having spent 4 July at Kutcher's house.
The couple was spotted kissing at Kutcher's wrap party for his new film - a biopic based on the life of the late founder and chief executive of Apple Inc, Steve Jobs. Kunis, 28, and Kutcher, 34, met in the late 90s, on the sets of television sitcom That '70s show, where, ironically, they played onscreen romantic pair Jackie Burkhart and Michael Kelso.
Kutcher split from wife Demi Moore in November last year, after the Ghost actress alleged he cheated on hr and news her ex-husband may now have found love with Kunis has not gone down well with Moore.
"Demi is devastated that Kutcher has moved on so quickly and is dating Mila. She is beyond heartbroken. Even though Ashton cheated on her all the time, it was with random girls, it wasn't a relationship like it is with Mila and that is what is killing Demi now. Seeing photos of him kissing another woman is too much for her to handle, it's like having her nose rubbed in it time and time again," a source told Radar Online.
Meanwhile, neither Kutcher nor Kunis have officially confirmed their relationship. Kunis has been quoted as saying Kutcher was merely a friend and a source close to the actor told People magazine the two were single and having fun.