Asia Cup T20 2016: Bangladesh captain Mashrafe Mortaza apologises to fans post loss to India in final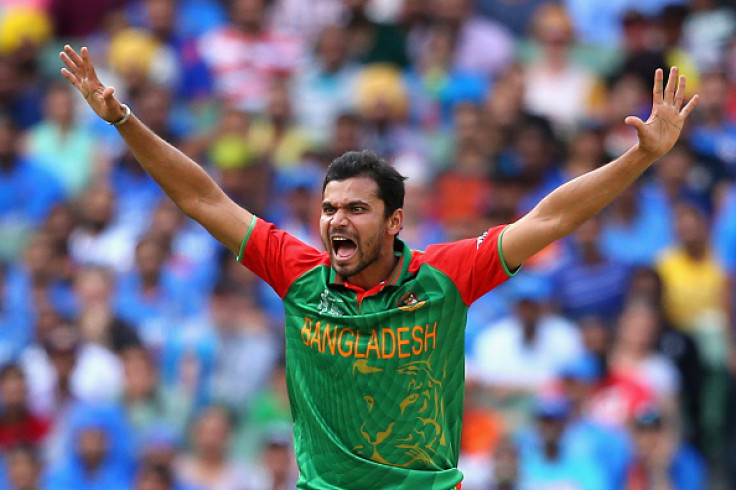 Bangladesh captain Mashrafe Mortaza has apologized to fans after their loss to India in the final of the 2016 Asia Cup T20. The hosts, who qualified for the final after beating Sri Lanka and Pakistan in the group stage, lost to India by eight wickets.
The Bangladeshi Tigers, who fly to India to face the Netherlands in the first qualifier for the T20 World Cup on 9 March, Wednesday, have improved vastly in the shorter formats of the game. Mortaza stressed the team will now need to focus on the upcoming World Cup and before that the qualifiers.
"Everyone in Bangladesh left what they were doing to watch this match," Mortaza said, as quoted by Wisden India.
"Many people were hurt when they tried to buy tickets for the final yesterday (6 March), and then there was the rain and we still had a full house. This loss has been disappointing, because we wanted to win it for the people. I am feeling really bad."
"We did not come into this tournament as favourites, so to get this far was a big deal. A win is always a win and a loss is a loss, but it's great that we got into the final after beating Sri Lanka and Pakistan. But now we need to maintain this standard."
"The boys performed well to get us to the final and did their best in the final as well. I hope we can continue this at the World Cup. There is no point in worrying too much about what we will do at the World Cup. We just need to be mentally prepared. We have to start from zero again. Even if we qualify for the World Cup, we have to start from scratch."
"We need to forget this match and get on the right track at the earliest. Momentum is a big thing in T20 cricket. I will try to motivate everyone again, now we need to forget about this loss. We lost to the number one team in the world, so there is no shame. We just need to focus on our job again by the time we get to India."
Bangladesh are drawn in Group A of the qualifiers along with Ireland, the Netherlands and Oman. The top two teams from each group qualify for the main tournament.
© Copyright IBTimes 2023. All rights reserved.