Asia is expected to overtake North America in terms of private financial wealth by 2016, as the region experienced significant growth in wealth in 2014, rising by 29% to $47tn (£30bn, €42bn).
The Asia-Pacific, excluding Japan, is currently the second-largest regional pool for private wealth after North America, according to the latest annual report on the global wealth-management industry by The Boston Consulting Group. The region has overtaken Europe to reach the second position.
The report added that private wealth in the region will rise to an estimated $75tn in 2019, with a projected average growth rate of 10% throughout the period. The region is also projected to hold 34% of the global wealth in 2019.
"At such a pace, the region is expected to overtake North America as the world's richest region in 2016, with $57tn in private wealth," it says.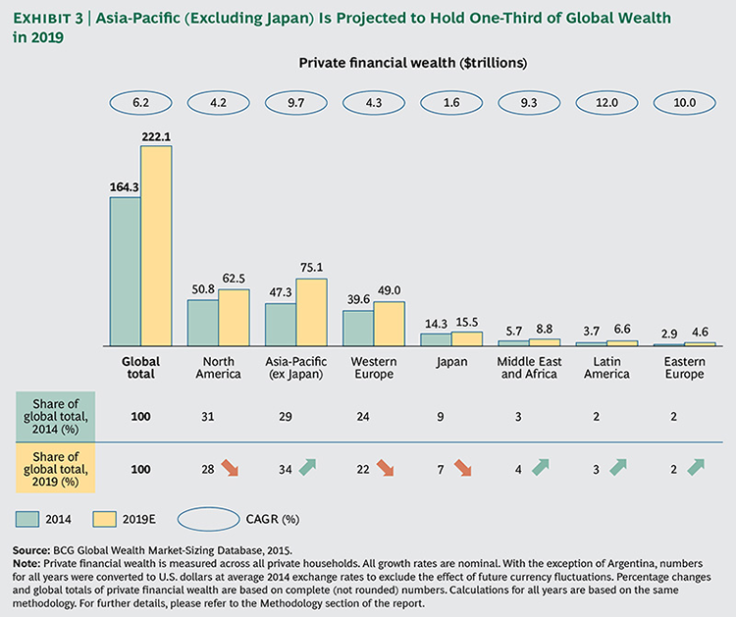 In 2014, global private financial wealth grew by about 12% to reach a total of $164tn, due to the better stock and bond performance and rising income and consumption in the global economy.
Globally, some three-quarters of private wealth growth in 2014 was generated by the market performance of existing assets, with the balance generated by newly created wealth, according to the report.
North America, with $51tn in private wealth, remained the world's wealthiest region in 2014. The US, which remained the wealthiest individual country, ahead of both China and Japan, had $46tn of wealth, representing 28% of the global total.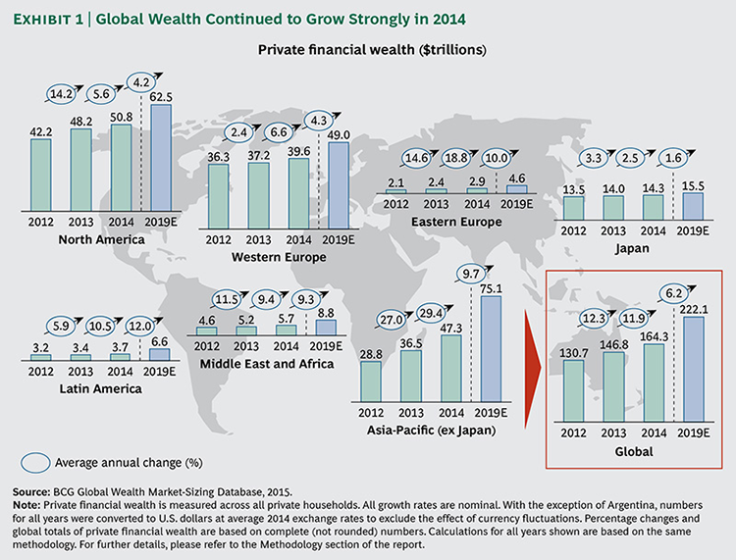 Western Europe's 7% growth rate brought private wealth to nearly $40tn in 2014, as the UK had witnessed an 11% growth. Private wealth in Eastern Europe grew by 19% to $3tn.
Growth in private wealth was 2% in Japan, 10% in Latin America and 9% in Middle East and Africa.
Over the next five years, total private wealth globally is projected to post a compound annual growth rate (CAGR) of 6% to reach an estimated $222tn in 2019, the report added.