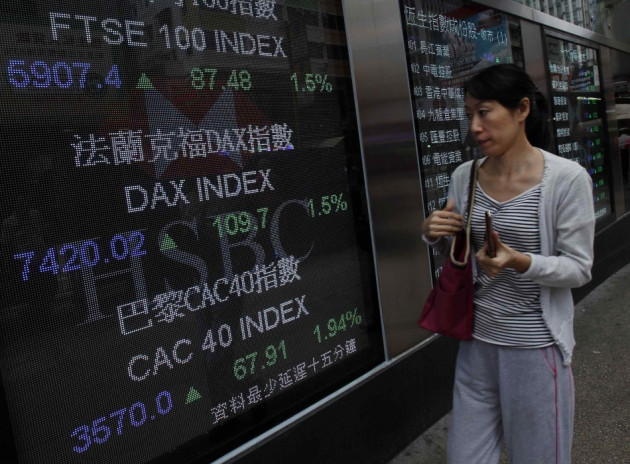 Asian markets outside Japan gained in the morning after improved manufacturing figures from China and the US raised hopes of a global economic recovery.
Hong Kong's Hang Seng index traded 0.24 percent or 52.12 points higher to 21,795.32 at 02:59 GMT while China's Shanghai Composite index gained 0.49 percent or 9.80 points to 2,025.41. South Korea's KOSPI was up 0.29 percent or 5.52 points to 1,905.02.
Japanese markets remained closed for a holiday.
A flash Purchasing Managers' Index (PMI) released by HSBC had earlier shown that China's manufacturing entered expansionary territory for the first time in 13 months, in November. The data, combined with a host of other positive indicators, including exports and industrial output, has increased speculation that the Communist nation is well on its way to achieving growth targets by the final quarter of the fiscal year.
Earlier, a preliminary PMI reading from the US showed manufacturing in the world's largest economy expanded at the fastest rate in five months in November. Manufacturing and service sector PMIs from major European nations Germany and France also revealed that conditions have not deteriorated.
Investors are keeping a close watch on Europe as EU leaders continue their negotiations on the region's next seven-year budget. The eurozone finance ministers are also expected to meet on 26 November, to take a final call on Greece's much needed bailout funds.
Major Movers
The real-estate sector traded higher in Hong Kong. China Resources Land gained 3.48 percent while New World Development Company was up 2.12 percent. Shares of Wharf Holdings were up 1.08 percent.
Chemical firm Shandong Dacheng Pesticide Company and agricultural products company Gansu Mogao Industrial Development Company were major gainers in Shanghai, up 10.03 and 10.00 percent.
Shipping-related investment firms gained in Seoul. Shares of Korea Pacific No 06 Ship Investment Company gained 14.97 percent while those of Korea Pacific No 07 Ship Investment Company traded 14.86 percent higher.