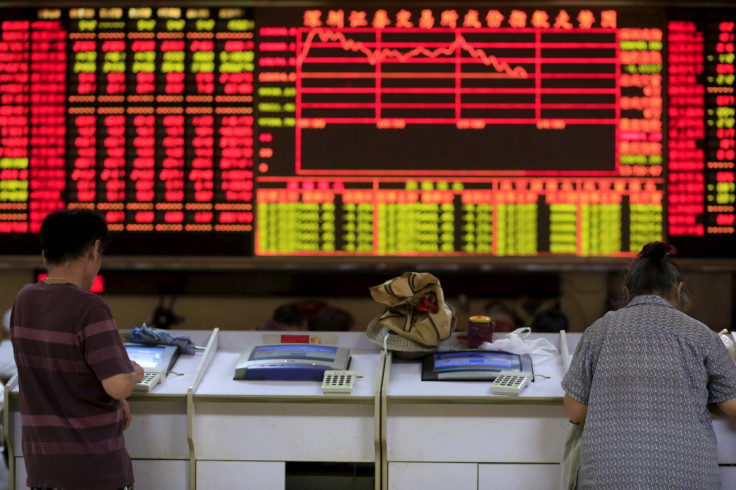 All of Asia's stock markets were down and in the red on 13 October (Tuesday) as China's trade data for September showed a larger-than-expected fall in its imports, increasing concerns about the slowdown in China. While the Shanghai Composite, which has lost close to 40% of its value since summer, was down by 0.26% to 3,279.04, Hong Kong's Hang Seng shed 0.56% to 22,608.70.
September imports in the world's second-largest economy declined a huge 20.4% from a year ago to $145.2bn (£94.5bn, €127.7bn) indicating increased weakness in the Chinese economy. This is the 11th straight month of fall for China's imports. Customs data indicated that the Chinese purchases of foreign goods was worse than August's 5.5% decline and proof of continued low demand despite repeated stimulus offered by the government to boost the economy.
Michala Marcussen, head of global economics at Societe Generale, said, "China's foreign trade data are unlikely to convey any constructive messages just yet."
However, sales of Chinese goods to foreign markets fell only 3.7%, a good improvement from the 13.8% decline that the previous month experienced. "The data alone would not be enough to make people optimistic on China. Still, markets appear to be supported by expectations of more stimulus after action by the People's Bank of China," senior strategist at Sumitomo Mitsui Asset Management, Masahiro Ichikawa said.
China's total foreign trade was down 8.1% in the first nine months of 2015, in comparison to the same period in 2014. This was below the full-year official target of 6% growth and highlights persistent weakness in demand at home and abroad.
"In general, there are no green shoots in this set of data. The growth of [trade] volume still remains low," according to Zhou Hao, senior economist at Commerzbank in Singapore.
Julian Evans-Pritchard of Capital Economics said "Basically, exports have been doing better since the second quarter, but that recovery trend has been masked on a year-on-year basis because the second half of 2014 was so strong."
Japan's Nikkei was down 1.11% at 18,234.74 and South Korea's Kospi was down 0.23% at 2,017.17. Australia's S&P/ASX 200, which on Friday closed at its highest level in seven weeks, dropped 0.57% to 5,202.90 and India's Bombay Stock Exchange was down 0.06% at 26,887.12.