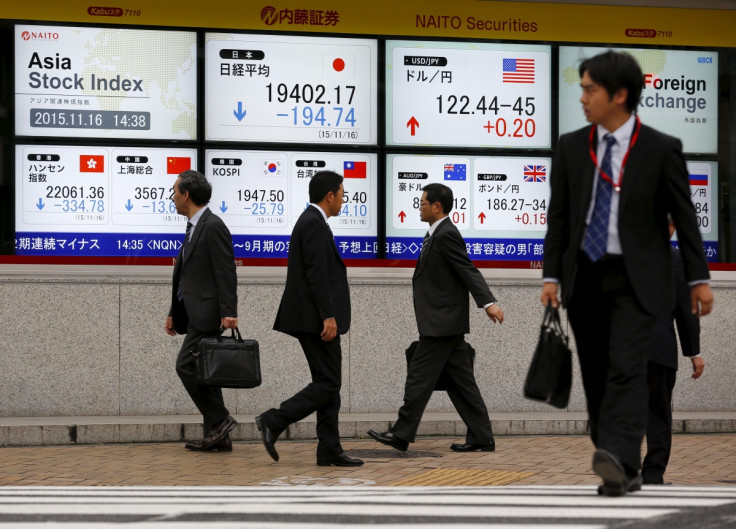 Most Asian markets moved up as the US dollar fell from seven-month highs. It came as a positive sign for investors who were concerned about prospects of higher US borrowing costs if the Fed raises interest rates.
China's Shanghai Composite Index was trading 0.37% higher at 3,630.50, while Hong Kong's Hang Seng Index was up 1.13% at 22,754.72. Australia's S&P/ ASX 200 was up 0.26% at 5,256.10, its best close since 29 October. This is also the index's best weekly percentage jump since the week ended 9 October. The gains were led by the resources sector as oil prices stabilised.
South Korea's KOSPI was flat at 1,989.86, up 0.05%. Japan's Nikkei 225 too was flat at 19,879.81, up 0.1%. India's BSE edged up 0.71% to 26,024.90. MSCI's broadest index of Asia-Pacific shares outside Japan, the MIAPJ0000PUS, rose 0.4%, marking a 2% gain for the entire week.
Overall for the week, the majority of Asian indices were up. Shane Oliver, an investment strategist with AMP Capital, said: "Worries about the Fed causing an emerging-market crisis are dissipating."
A few weeks ago, investors were worried that a Fed rate increase would raise borrowing costs, but now the Fed's stance in favour of a rate increase in December is seen as a positive for the equity markets as many believe that a potential rise would signal a Fed vote of confidence in the global economy.
Fed Vice Chairman Stanley Fischer said: "We have done everything we can to avoid surprising the markets and governments when we move, to the extent that several emerging-market and other central bankers have for some time been telling the Fed to 'just do it'."
In commodities, WTI crude oil was trading down 0.22% at $40.45 a barrel, while Brent was 0.14% higher by at $44.24 a barrel.