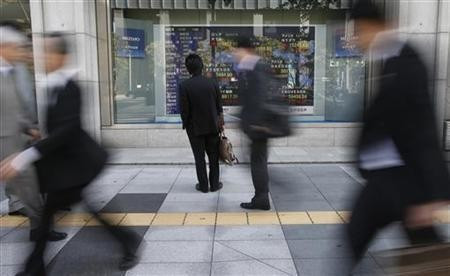 Most Asian markets have ended lower amid concerns over eurozone ministers' decision on vital bailout funds for Greece and the Yen's extended weak run against the Dollar.
Japan's Nikkei average ended 0.2 percent or 22.14 points higher, at 9388.94, while South Korea's KOSPI was down 0.15 percent or 2.82 points to 1908.51.
Hong Kong's Hang Seng index slipped 0.24 percent or 52.17 points to 21861.81. China's Shanghai Composite index fell 0.49 percent or 9.92 points to 2017.46.
India's Bombay Stock Exchange Sensex traded 0.18 percent or 33.69 points to 18,536.11 at 09:44 GMT.
Eurozone finance ministers are set to meet later in the day in Brussels to take a final call on Greece's much needed bailout funds. Athens had accepted a tough austerity package and passed a stiff budget in its parliament, in a bid to convince its lenders to unlock the funds. But the ministers have failed to take a decision on the aid in the previous two meetings.
The Yen continued its weak run against the Dollar and the Euro. Earlier in the day, the Bank of Japan released the minutes of its 30 October policy meet, which revealed a stress on aggressive monetary easing measures to boost Japan's ailing economy. Last week, the central bank refused to ease its monetary policy.
The country is heading for elections on 16 December which could see the opposition, the Liberal Democratic Party (LDP) come to power. The LDP is widely known for its pro-stimulus stand and is expected to put pressure on the central bank to initiate further fiscal aid measures.
Major Movers
Japanese exporters extended gains to end in the green. Pioneer Corp gained 4.10 percent while Advantest Corp was up 2.13 percent. Shares of TDK Corp and Casio Computers gained 2.36 and 1.48 percent.
Renesas Electronics Corp gained 16.6 percent following reports by the Nikkei that the company's top shareholders were set to buy out the firm.
Woosung Feed Company and Shinhan Engineering & Construction Company were the major losers in Seoul, down 14.96 percent each.
In China, Baotou Huazi Industry Company and Yonyou Software Company performed the worst, down 10.03 and 9.99 percent.
Mobile carrier Tencent Holdings, down1.56 percent while Bank of Communications Company, whcih slipped 1.24 percent were the major losers in Hong Kong.
Metal Stocks traded higher in India. Tata Steel was up 2.36 percent while Hindalco Industries gained 2.13 percent.