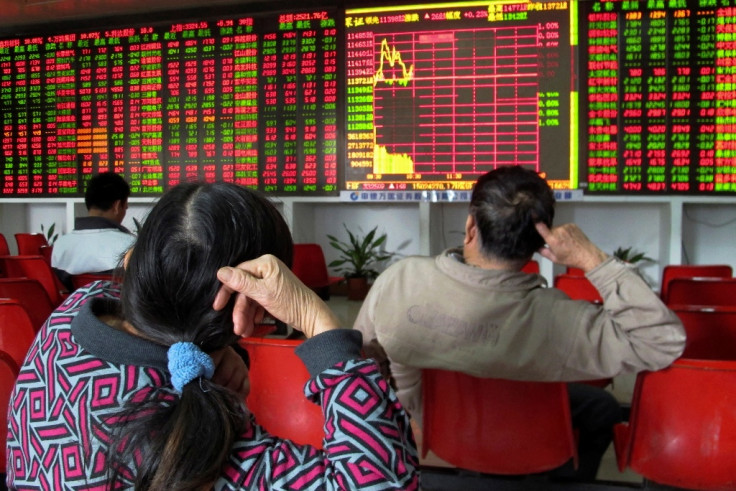 Asian markets outside mainland China traded lower on 2 June following central bank policy decisions from Australia and India.
The Japanese Nikkei finished 0.13%, or 26.68 points, lower at 20,543.19.
The Shanghai Composite finished 1.69%, or 81.79 points, higher at 4,910.53.
Hong Kong's Hang Seng finished 0.47%, or 130.44 points, lower at 27,466.72.
Australia's S&P/ASX 200 finished 1.73%, or 99.40 points, lower at 5,636.00.
South Korea's Kospi Composite finished 1.13%, or 23.73 points, lower at 2,078.64.
India's S&P BSE Sensex finished 2.37%, or 660.61 points, lower at 27,188.38.
Market movements
The Nikkei ended in red territory for the first time in 12 sessions, pulled down by a stronger yen.
The Shanghai Composite finished higher after volatile trade.
Bernard Aw, IG's market strategist, said in a note to clients: "Tellingly, the People's Bank of China (PBoC) did not address the soaring stock prices in its 2015 financial stability report, only saying that it will continue to promote a stable and healthy equity market. One can reasonably interpret the PBOC's reticence on the bull market as a quiet confidence that Chinese shares are not in a bubble."
The ASX was pulled down by the Reserve Bank of Australia's (RBA) decision to keep interest rates steady at a record low 2%, in line with expectations.
On the data front, Australia's current account deficit widened to A$10.7bn in the first-quarter, a tad better than the expected deficit of A$10.8bn. Net exports added 0.5 percentage points to the GDP, beating forecasts of zero impact on growth.
Capital Economics said in a note: "We suspect that today's decision by the Reserve Bank of Australia (RBA) to leave interest rates on hold at 2.0% is nothing more than a pause in the loosening cycle that could yet result in rates falling to 1.5% by the end of the year.
"Such a move would catch the markets on the hop, which explains why we expect the Australian dollar to weaken to around US$0.70 by December, from US$0.77 now."
Elswhere, the Sensex tumbled after the Reserve Bank of India (RBI) disappointed markets and analysts by cutting the repo rate by just 25 basis points.
Capital Economics said in a note: "[2 June's] decision by the Reserve Bank of India (RBI) to cut the repo rate for the third time this year to 7.25% is unlikely to be the last in the current loosening cycle. But the RBI can't be complacent about meeting its medium-term inflation target.
"Given this, we are forecasting only one more 25bp cut in this cycle, which would bring the repo rate to 7.00%."
Company Stocks
In Tokyo, Chubu Electric Power shot up 4.46%
NTT Docomo added 3.94% after the Nikkei newspaper reported that the firm plans a double-digit return on equity by financial year 2017.
In Shanghai, China Everbright Bank jumped 5.12% on news that it had bagged regulatory approval to issue domestic preference shares in a private placement.
In Hong Kong, Chinese broker Huatai Securities added 1.15% a day after its trading debut.
In Sydney, Westpac Banking lost 2.36% and National Australia Bank 2%.
Energy producer Oil Search fell 3.76% while Santos lost 2.88%, pulled down by weak oil prices in Asia.
Mining giant BHP Billiton lost 2.95%.
In Seoul, Hyundai Motor tanked 10.36%, while auto parts maker Hyundai Mobis lost 8.47%, pulled down by monthly data that showed that Korea's auto sales shrank 4.2% in May from a year ago period.
Kia Motors lost 4.12%.
Travel firm Hanatour Service fell 8.87% after the health ministry confirmed two deaths related to the outbreak of Middle East Respiratory Syndrome (MERS) in South Korea.
Traders are worried that the outbreak could hurt the nation's tourism numbers.
Hotel Shilla and Lotte Shopping dropped 3.80% and 3.23% respectively.
In Mumbai, Mercator jumped 7.72% after the firm announced that its subsidiary Mercator Petroleum had made its first oil discovery in the Cambay basin, in western India.
State Bank of India (SBI) lost 4.28%. Tata Steel lost 2.29% while construction giant L&T shed 2.03%.