China and South Korea sign FTA allowing preferential tariffs for products from Kaesong industrial park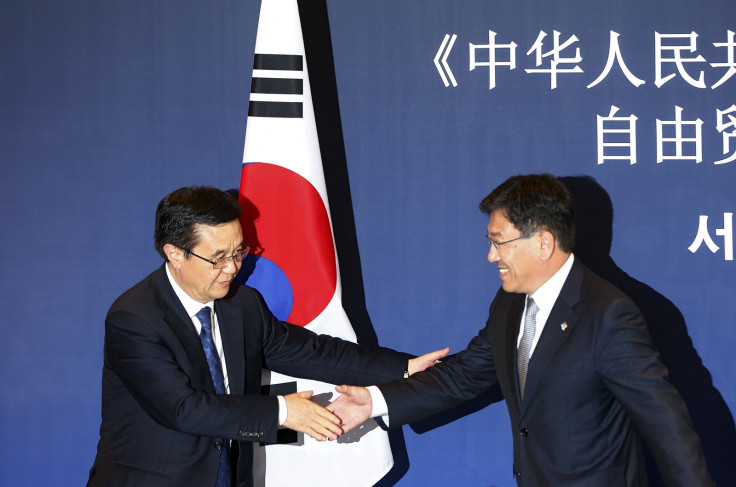 China and South Korea have formally signed a bilateral free trade agreement (FTA) as the Asian economies seek to benefit from each other.
Chinese Commerce Minister Gao Hucheng and his South Korean counterpart Yoon Sang-jick formally signed the bilateral FTA in central Seoul, China's official Xinhua news agency reported.
The signing comes three years after the countries began talks on the FTA in May 2012. Negotiations on the pact witnessed rapid progress after Chinese President Xi Jingping visited South Korea in July 2014.
The deal will be implemented after it is approved by the parliaments of both nations.
Under the FTA, South Korea will eliminate tariffs on 92% of all products from China within 20 years after the implementation, while China will abolish tariffs on 91% of all South Korean goods.
The agreement allows preferential tariffs for a total of 310 products manufactured in the Kaesong Industrial Complex – an industrial park located in North Korea's border town of Kaesong. About 120 South Korean companies are running factories there, hiring some 53,000 employees from North Korea.
Two years after the FTA comes into force, the countries would resume negotiations on the services sector to push for further liberalisation in bilateral transactions.
Xi said in his letter to his counterpart Park Geun-hye that the FTA will bring a leap forward in the bilateral trade relationship and substantively benefit the people of both countries.
He added that the deal would contribute to economic integration of East Asia and the Asia-Pacific region, as well as to the global economic development.
Park said in her letter that the FTA deal would deepen the strategic cooperative partnership between the countries and serve as an institutional framework for future cooperation.
For South Korea, the agreement marks entry for a larger number of companies into the world's largest consumer market. The country expects that the FTA would boost its real gross domestic product by 0.96 percentage point and create 53,800 new jobs in the next 10 years after the implementation.
In 2014, bilateral trade between China and South Korea amounted to $235.4bn (£154bn, €214.2bn), compared to just $6.4bn in 1992, when the countries established diplomatic ties, according to data from the Korea International Trade Association (KITA).
© Copyright IBTimes 2023. All rights reserved.