Most of the 405 passengers aboard the Chinese luxury vessel which sank in the Yangtze river are believed to be elderly tourists, aged between 50 and 80.
With hundreds still missing, President Xi Jinping has urged all-out efforts in rescuing survivors of the cruise ship named Dongfangzhixing, or Eastern Star.
Thousands of troops and emergency personnel have been deployed to carry out rescue measures. More than 30 people are thought to be rescued so far. A few bodies have also been recovered, 12 hours after the ship sank.
Rescue personnel are communicating with the survivors who are still trapped inside the capsized vessel. The ship was carrying 458 people – 405 passengers, five tourist guides, and 47 crew members – when it sank in China's Yangtze river at about 21:30 local time.
The ship wreck was spotted at 15-meter-deep waters but rescue efforts are being hampered by bad weather. Dozens of boats and helicopters have been deployed to carry out the operation. Chinese Premier Li Keqiang is set to arrive at the site to oversee the rescue efforts.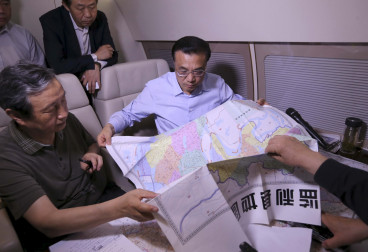 Meanwhile, the chief engineer and captain of the vessel have been detained by authorities for questioning.
The ship, caught in a tornado, had overturned within "one to two minutes" suggest local reports. The ship did not send out a distress call after the tragedy but some of the survivors, about seven people, swam ashore to alert the authorities.
According to the Hubei province's meteorological department, a local gale which whipped by a tornado could have caused the accident.
Most of the passengers aboard the doomed ship were asleep when it suddenly sank.