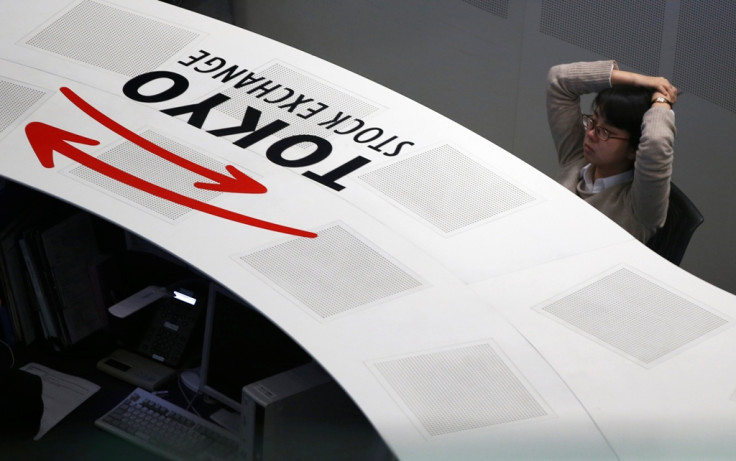 Asian markets outside Korea and India traded higher on 26 May despite lack of fresh cues from within and outside the region.
The Japanese Nikkei finished 0.12%, or 23.71 points, higher at 20,437.48.
The Shanghai Composite finished 2.02%, or 97.10 points, higher at 4,910.90.
Hong Kong's Hang Seng finished 0.92%, or 257.03 points, higher at 28,249.86.
Australia's S&P/ASX finished 0.91%, or 51.90 points, higher at 5773.40.
South Korea's Kospi finished 0.12%, or 2.60 points, lower at 2,143.50.
India's S&P BSE Sensex finished 0.41%, or 112.47 points, lower at 27,531.41.
Market movements
The Nikkei and the Shanghai Composite hit fresh multi-year highs.
The Hang Seng was buoyed by a new cross-border investment scheme announced over the weekend. The mainland plans to roll out a mutual fund recognition scheme with Hong Kong. The scheme will allow funds domiciled in Hong Kong and China to be sold in each others' market starting 1 July, Reuters reported.
Elsewhere, analysts at Patersons Securities attributed the ASX rally to the "inexorable climb" in China's equity market, alongside upbeat local stock-specific developments.
Bernard Aw, IG's market strategist, wrote in a note to clients: "Although there are concerns that the bull run in Chinese shares is not matched by strong economic growth, the uptrend momentum remains strong. I maintain my bullish longer-term view of the Chinese markets, but substantial pullbacks may materialize given its retail-driven nature."
Sean Tuffy, head of regulatory intelligence at BBH, said in a note: "Despite the relatively low key announcement, the launch of the Mainland-Hong Kong Mutual Recognition of Funds (MRF) initiative is an important milestone in the cross-border fund industry. We expect the MRF initiative to evolve into an important fund structure for asset managers globally and create a launch pad for Hong Kong to establish itself as a global cross-border fund hub.
"BBH's assessment suggests that the Hong Kong/China mutual recognition scheme could develop into a $400bn market in the next five to ten years."
Company stocks
In Tokyo, Suntory Beverage and Food lost 1.74%, after news that the soft-drink maker will buy Japan Tobacco's vending machine businesses for about ¥150bn.
In Shanghai, China Shipbuilding Industry added 9.98%.
In Hong Kong, billionaire Pan Sutong's Goldin Properties Holdings rocketed 44.09% while Goldin Financial Holdings jumped 8.27%.
Property developer China Vanke finished 5.495 higher while the Hong Kong Exchanges and Clearing jumped 5.38%.
In Sydney, Fortescue Metals surged 10.60% after the Australian Financial Review reported that the iron ore miner had held discussions to obtain investment from Chinese companies and that "Chinese-linked companies have applied to the Foreign Investment Review Board seeking permission for an investment involving" Fortescue.
Tap Oil gained 2.94% while Beach Energy added 2.24%. Westpac Banking gained 2.09%.
In Seoul, Samsung C&T surged 14.83% on news that the general trade and construction firm will be acquired by Samsung's de facto holding company Cheil Industries, which has interests from fashion to theme parks.
Kepco Plant Service & Engineering fell 4.88% while Kepco Engineering & Construction Company lost 2.62%.
Construction conglomerate Hyundai Development lost 2.62% after news that it will partner with Hotel Shilla to open a new duty-free store in downtown Seoul. By contrast, Hotel Shilla gained 1.80%.
In Mumbai, Nestle India lost 1.97%. The stock was pulled down by news that the Food Safety and Drug Administration (FDA) in the northern Uttar Pradesh state could file a case against the firm, in a week's time, over suspected high lead content in the firm's Maggi noodles.