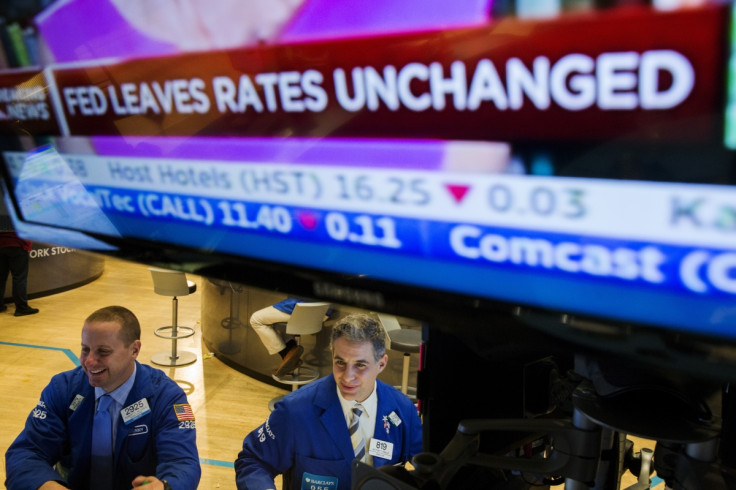 Asian stock markets saw a mixed response on 29 October (Thursday) after the US Federal Reserve in its latest policy statement kept the current rates unchanged.
It, however, signalled that it could increase its short-term rates in its December policy meeting after ruling out previous warnings which implied that the US economy could face pressure from global financial and economic risks.
The Fed, which has not increased rates since 2006, pegged its target range between 0-0.25%.
Kevin Giddis, head of fixed income at Raymond James, said, "The Fed is doing everything it can to try to keep a 2015 rate increase on the table."
Japan's Nikkei 225 was up 0.17% at 18,935.71. This is primarily in response to expectations that its central bank, Bank of Japan (BoJ) could introduce further stimulus in its policy meeting scheduled tomorrow (30 October).
According to Oxford Economics, "There is a strong case for more QE at the 30th October meeting; the economy is stagnating and the target measure of inflation is below zero."
Shanghai Composite Index was up 0.36% at 3387.32 while Hong Kong's Hang Seng was down 0.60% at 22,819.94.
India's BSE declined by 0.64% at 26,865.41, while Australia's S&P/ASX 200 was trading at 5,266.90 down 1.28% and South Korea's KOSPI was trading lower by 0.41% at 2,034.16.
The Feds move is contradictory to moves by the central banks of Europe and China. While the European Central Bank (ECB) signalled its readiness to introduce more stimulus after its policy meeting last week, People's Bank of China (PBoC) not only cut interest rates for the sixth time in less than a year but also reduced the amount of cash its banks should hold as reserves.
Economists at Australia and New Zealand Banking Group said, "Attempting to gauge the impact of potential policy easing by the ECB and recent interest rate cuts by the PBoC on the Fed's reaction function [is difficult]"
The Feds policy meeting outcome, however, had a positive effect on oil prices snapping a three-day losing streak. While WTI Crude oil climbed 5.96% to $45.94 a barrel, Brent was up by 4.57% at $49.05 a barrel.