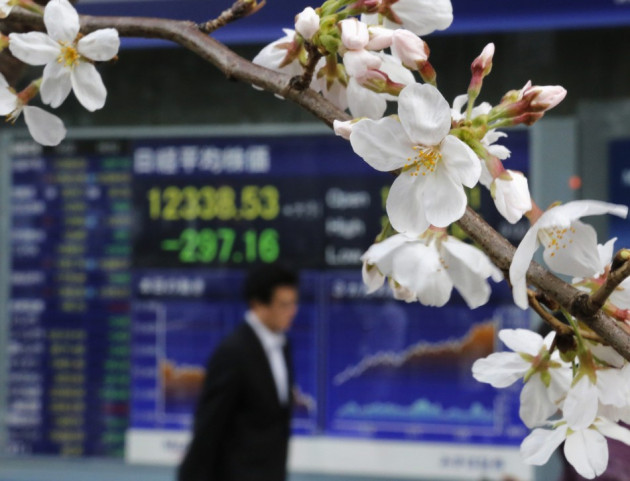 Asian markets have gained as mining companies balanced their share prices following their worst weekly decline since August.
Japan's Nikkei Stock Average rose 0.6 percent or 80.57 points to 13,300.6, while South Korea's KOSPI gained 0.2 percent or 4.19 points to 1,904.9. Australia's S&P/ASX 200 advanced 0.1 percent or 2.8 points to 4,930.2.
The Shanghai Composite index rose 1.1 percent or 23.87 points to 2,221.2 and the benchmark Hang Seng index gained 0.8 percent or 170.14 points to 21,677.1.
Earlier, Wall Street indices declined after disappointing forecasts from eBay and other companies, adding to concerns that the market's recent upbeat sentiment is losing momentum.
Energy companies received a boost from oil futures' rise above $87 a barrel overnight. Meanwhile, gold prices rebounded supported by strong retail demand, with buyers pushing up sales to the highest level this year.
"On the demand side, we are already seeing a strong response to the fall in prices, with a sharp pick-up in physical gold sales by investors and retail consumers in the two key consumer markets - India and China. This gives us some confidence that as panic selling passes, prices can rebound by $100-150/oz and trade in the $1400-1550 range over the next 3-6 months," said Mark Pervan, analyst at ANZ Research.
Japan's blue chip stocks were volatile. The yen extended losses against the euro as Japan escaped criticisms for the yen devaluation. Global finance ministers and central bankers ended their two day summit and members agreed to withhold comments on Japan's monetary policy.
The US dollar is currently trading at 98.55 yen, up 0.39 percent.
The Australian market rebounded, with miners and energy firms recording a sharp rise in share prices as most commodity prices increased overnight. On Thursday, the Australian mining shares declined as a sell-down in resource prices weighed on the market.
Hong Kong stocks gained after five consecutive sessions of declines, led by Lenovo shares that jumped on reports that the company is in talks to IBM's computer server business.
Major Movers
Nikkei's Dainippon Screen Manufacturing rose 9.5 percent, Sumitomo Metal Mining gained 5.3 percent and Nisshin Steel Holdings increased 5.2 percent.
Among Australia' miners, BHP Billiton rose 1.9 percent, Rio Tinto added 2.1 percent and Fortescue Metals Group rallied 3.9 percent. Metal companies Alumina and Newcrest Mining advanced 2.7 each, while oil firm Woodside Petroleum improved 2.6 percent, Oil Search rose 3.1 percent and Santos climbed 2.1 percent.
Lenovo shares rose 5.9 percent in Hong Kong, while China's Inner Mongolian Baotou Steel Union rose 2.1 percent, Huaneng Power International gained 2 percent and Wuhan Iron & Steel advanced 1.5 percent.