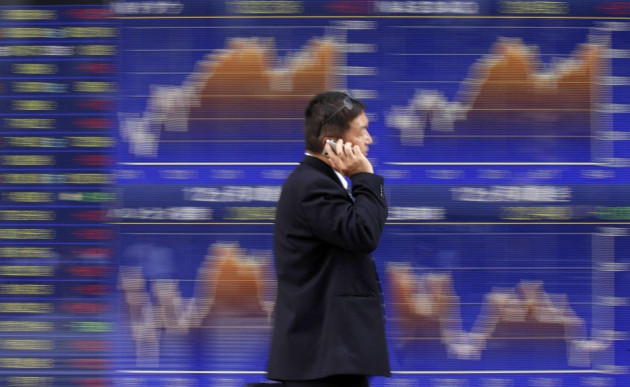 Asian markets have slipped in the morning trade on concerns over the US economy as lawmakers continued talks to avert the impending 'fiscal cliff' in the world's largest economy.
Japan's Nikkei traded 0.84 percent or 79.37 points lower to 9343.93. Electronic firms Pioneer Corp, down 3.45 percent and Alps Electric Company which fell 3.35 percent, were the major losers.
South Korea's KOSPI fell 0.84 percent or 16.18 points to 1909.02. Kumho Investment Bank and Shinil Engineering Company traded the lowest, down 6.12 and 5.47 percent respectively.
China's Shanghai Composite Index slipped 0.64 percent or 12.80 points to 1978.36. Chemical firm Jiangsu Zhongda New Material Group Company was trading lowest, down 8.68 percent, followed by financial firm CRED Holdings Company, which fell 7.44 percent.
Hong Kong's Hang Seng index dropped 0.73 percent or 158.42 points to 21685.61. Major losers were retailers Belle International, down 2.22 percent and Espirit Holdings, which slipped 2.07 percent.
Eurozone concerns had eased after the bloc's finance ministers and the International Monetary Fund (IMF) took a final decision on the much-needed bailout funds to Greece. But traders remained wary on speculation of how Athens plans to meet the revised debt targets.
Fears of the US 'fiscal cliff' regained momentum after Senate Democratic Leader Harry Reid said that the negotiations to avert the spending cuts and tax hikes that comes into effect by early next year have had little progress. The weak sentiments had weighed the Wall Street down to close lower.
The Organization for Economic Cooperation and Development (OECD) said in a report that a failure to avert the fiscal crisis could potentially add pressure to the already-weak world economy.
"If the fiscal cliff is not avoided, a large negative shock could bring the U.S. and the global economy into recession," the Paris-based organisation said.
Japanese investors are awaiting the 16 December elections, widely expected to bring the current opposition Liberal Democratic Party (LDP) into power. LDP has made it clear that it will push for further monetary easing measures from the Bank of Japan. A slew of recent economic indicators from the country had given rise of speculations that the Japanese economy may be slipping into recession.