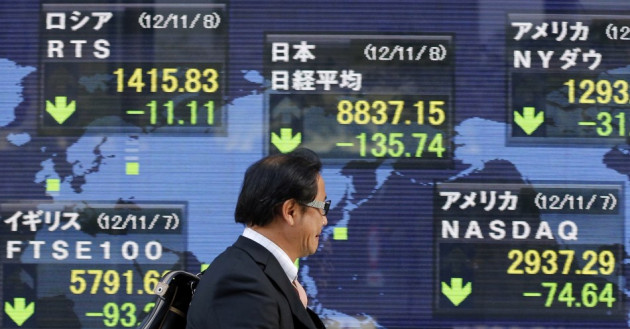 Asian stocks advanced for the third week as China's new government indicated that it will continue economic reforms, although concerns on the US economy lingered.
Japan's Nikkei average added 0.9 percent in the week and topped the 9500-mark, hitting a seven-month peak. The benchmark gauge has gained 10 percent in almost four weeks. The yen remained weak against the dollar, encouraging investors to buy up exporter stocks. But the index closed the week in the red on concerns that the market has "overheated".
The country is heading for elections on 16 December and the current opposition, the Liberal Democratic Party (LDP), is expected to take office next. The LDP is known for its pro-stimulus stand and is of the opinion that the country's central bank should boost the economy with further monetary aid measures.
South Korea's KOSPI gained 1.3 percent, ending 0.4 percent higher after touching a seven-week closing high earlier. Electronic major Samsung Electronics hit record highs on strong performance outlook.
Market sentiments in the region were boosted early in the week after official data showed that China's manufacturing Purchasing Managers Index jumped to 50.6 in November. The country's new leaders added to the cheer when they indicated that China will continue to tweak its economy to maintain stability. Analysts suggest that the stress on stability could suggest that China will initiate measures to strengthen domestic consumption to guard itself against the slowing global economy.
"We will keep continuity and stability of macro-economy policies, prioritising on making policies more targeted and effective while fine-tuning policies when appropriate," the Communist government's new party chief Xi Jinping was quoted as saying by China's state-owned television channel.
"China will make more efforts on expanding domestic demand and fostering new consumption growth areas."
China's Shanghai Composite Index gained 4.1 percent, its biggest jump in about 13 months. Hong Kong's Hang Seng gained 0.7 percent.
The Chinese economy had slowed to 7.4 percent in the third quarter, but is widely expected to advance in the coming quarters to expand further in the coming months. The Asian Development Bank has said that it expects the world's second largest economy to expand 7.7 percent in 2012 and 8.1 percent in 2013.
The fiscal cliff negotiations in the United States continued to keep traders nervous, but the markets remained positive that the lawmakers will reach a compromise to break the deadlock at least by the last minute. Positive and negative comments on the issue from political leaders have evoked mixed reactions from the bourses.
But US economic indicators provided some relief. Data showed that factory orders saw a modest rise in the month of October due to higher demand for equipment and machinery while the number of jobless claims dipped.