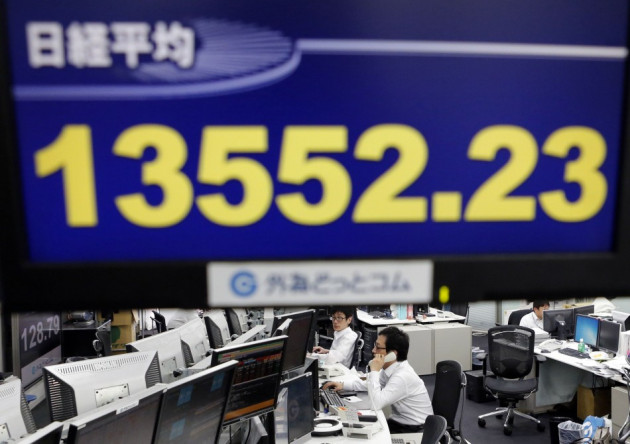 Most Asian markets have ended the week on a higher note with positive economic data and corporate earnings reports bolstering investor confidence.
The market movement was primarily based on earnings-related news in several regional markets including Japan, mainland China, Hong Kong and South Korea.
Japan's Nikkei average rose 4.3% during the week, despite a 0.3% decline on Friday to retreat from a five-year high and close at 13,884.1. The index reached its highest level since June 2008 in the week after the G20 meetings in Washington gave their nod for the Bank of Japan's (BOJ) anti-deflationary measures.
Following the development, the yen reached close to the symbolic 100 yen/dollar mark, but failed to cross the mark as the latest policy meeting of the BOJ on Friday maintained the current monetary easing policies.
After the closing of the market, the BOJ projected steady economic growth and rise in inflation to its target of 2% by 2015.
Despite a holiday during the week, Australia's S&P/ASX 200 gained 2.6% for the week to close at 5,097.5. In addition to strong earnings reports from major companies, a rebound in the commodity market after a record fall in the prices of crude, gold and copper helped the market Down Under.
South Korea's Kospi advanced 2.1% during the week amid upbeat earnings reports and easing war tensions in the peninsula. The country's blue-chip electronics giant Samsung posted a 42% increase in net profit for the three months ended in March on record sales of its Galaxy range of smartphones.
Hong Kong's Hang Seng rose 2.3% in the week with a number of frontline companies reporting strong quarterly profits. The Warren Buffett-backed Chinese automaker BYD Co reported that its quarterly profit tripled and it is forecasting a surge in first half profit.
Meanwhile, the Shanghai Composite was an exception in Asia, falling 3% during the week to close at 2,177.9 on Friday. China stocks suffered a setback after a deadly magnitude 7.0 earthquake that hit the Sichuan province of China over the weekend.
Investors in Shanghai were also concerned about the country's economic growth and earnings reports due next week from more blue-chip companies. On 23 April, a survey by HSBC Holdings and Markit Economics showed that China's manufacturing output expanded at a slower pace in April.
Shares of banking giants Industrial & Commercial Bank of China, China Construction Bank and Agricultural Bank of China declined ahead of their quarterly reports.
The Week Ahead
Analysts expect the volatility in the global markets to remain for a while amid weak fundamentals and weak profit projections for the year from companies.
Nevertheless, investors' preference for equity is strong due to lower returns from bonds, according to Sanjeev Kumar, CEO at Delamore & Owl Group Of Companies.
"The role of easy money that is driving the return of bonds to the lowest ever in history is pushing investors to towards riskier asset class including equity. The central banks themselves are buying up equities in pretty heavy amount," Kumar told IB Times UK.
Japan is due to release most of the remainder of March's data on Tuesday. They include retail sales, unemployment, housing starts and industrial production.
China's financial markets will be closed from Monday to Thursday for Labour Day holiday. The final China manufacturing PMI report from HSBC and Markit is due on Thursday.
South Korea will release its industrial production details on Monday.