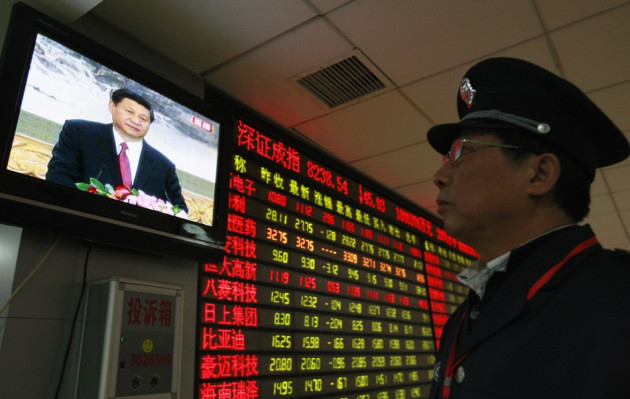 Most Asian markets slipped in the week that saw persistent concerns on the global economy, leadership change in China and signs of a political shift in Japan.
The Nikkei 225 average gained 3 percent in the week while South Korea's KOSPI dropped 2.5 percent. Hong Kong's Hang Seng slipped 1.1 percent. The Shanghai Composite Index slid 2.6 percent.
The US "fiscal cliff", a combination of tax hikes and spending cuts set to come into effect by next year, remained a point of focus for global investors. Fears are running high that the proposed austerity measures could push the world's largest economy into recession.
President Barack Obama has already initiated efforts to reach a consensus that could avoid a crisis. Although analysts expect the lawmakers to come up with a solution at least at the eleventh hour, investors remained anxious on the potential impact of the issue on markets.
"While there are plenty of choices to cut deficits, even without dealing with so called mandatory spending - entitlements such as Social Security and Medicare - the problems come mostly from the rigidities that are introduced when boundaries are drawn around what is possible," said analysts at Bank of America Merril Lynch in a report.
Away from the US, concerns on the eurozone debt crisis rebounded. Greece, which is on the verge of running out of cash, had managed to pass an austerity package and a stiff 2013 budget in its parliament. But international lenders are yet to unlock the crucial bailout funds for Athens.
Meanwhile, anti-austerity sentiments swept across the European Union as millions of workers from Spain, Portugal, Italy, Greece and a number of other EU-member states staged walkouts and protests. Public life was hit and protests ended in violence in some countries. Although the public anger is not expected to bring about a change in the austerity measures, concerns on social stability in the region remain.
China concluded its 18th Party Congress, unveiling a fresh regime that will lead the world's second largest economy into the next decade. Although the country is expected to continue economic reforms, markets failed to cheer on concerns that some of the new leaders are conservative.
Japanese investors turned positive after Prime Minister Yoshihiko Noda said that he will dissolve the lower house of parliament and hold elections in December. The polls are likely to end Noda's term at office as the opposition Liberal Democratic Party (LDP) is expected to come to power. LDP and its leader Shinzo Abe are well-known for their view that the Bank of Japan should initiate further stimulus packages to boost the economy.
Outlook for the coming week
Markets will be looking to Europe in the coming week as the region's finance ministers meet on 20 November to take a final call on Greece's bailout. Investors will also be keeping a close watch on the fiscal cliff negotiations in the US.
Chinese traders will be looking for early indications from the new leaders on policy changes or economic reforms. The country's HSBC Manufacturing Purchasing Managers Index (PMI) is also expected next week.
Japanese markets may settle in the coming week as the initial enthusiasm from hopes of the LDP coming to power gives way to concerns on the feasibility and effectiveness of monetary easing measures to boost the economy. Sceptics have suggested that structural reforms are more important than stimulus packages.