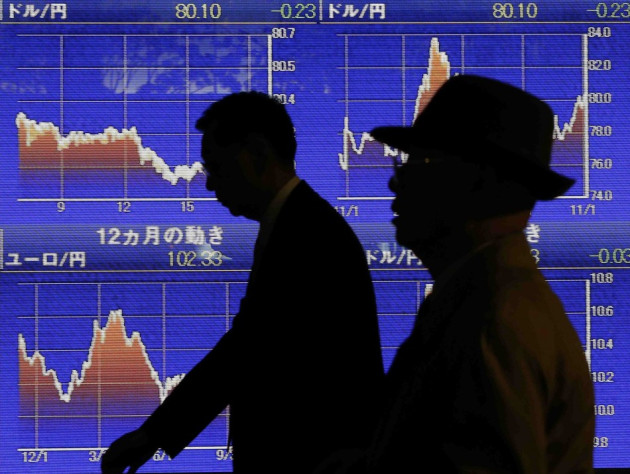 Asian stocks posted mixed performance, ending a week that was mostly affected by the US budget negotiations to avoid the $600 bn worth spending cuts and tax hikes, in the red.
The Nikkei stock average added 2.1 percent this week buoyed by the Yen's weakness and hopes of aggressive stimulus measures after the Liberal Democratic Party won the lower house election. South Korea's KOSPI slipped 0.7 percent. Hong Kong's Hang Seng fell 0.4 percent. China's Shanghai Composite Index gained 0.1 percent.
Volatility persisted in the markets as US lawmakers continued to remain at loggerheads over the "fiscal cliff" negotiations. Sentiments remained positive early on in the week as the White House and Republican House of Representatives Speaker John Boehner expressed optimism on reaching a solution. However, the upbeat sentiments on proposals and counter-proposals that were introduced by both the parties dipped towards the end of the week after the Republicans called off a vote on a "Plan B" to avert the crisis.
"Frustration and mild panic has replaced the optimism traders recently felt that US lawmakers could agree on measures that delay the devastating effects of the fiscal cliff," said Weiming Yang, Premium Client Manager at IG Markets in Singapore after markets closed the week lower.
"Asian markets are at the mercy of these tense negotiations, hanging on every word from Republican leader John Boehner and President Obama."
The LDP's massive electoral triumph and the Bank of Japan's monetary easing measures remained the major focus for traders in Tokyo.
The Nikkei had started the week higher, extending earlier gains, after the Shinzo Abe-led pro-stimulus party won two-thirds of the available seats in the Japanese lower house. Before the elections Abe had indicated that he would put strong pressure on the Bank of Japan to take up unlimited stimulus measures to boost the economy and traders remained optimistic that he would keep his word considering the weak growth outlook.
Investor hopes were not misplaced as towards the weekend the BoJ announced plans to boost its asset purchase plans by 10 tn yen and reconsider inflation target levels.
"The proximity of today's decision to the weekend's elections may leave the Policy Board open to criticism that it is bowing to pressure from the newly-elected LDP government," noted David Rea, Japan Economist at Capital Economics.
"However, others might argue that the Board has been too timid in the past. The balance may have been tipped anyway by the weakness of the Bank's own Tankan survey of business conditions, published last week". The Tankan survey had shown that Japanese business sentiments continued to remain weak in the fourth quarter, casting further doubts on economic recovery.
All eyes will now be on the LDP's upcoming budget and the central bank governor replacement as its current head Masaaki Shirakawa's term ends in April 2013.