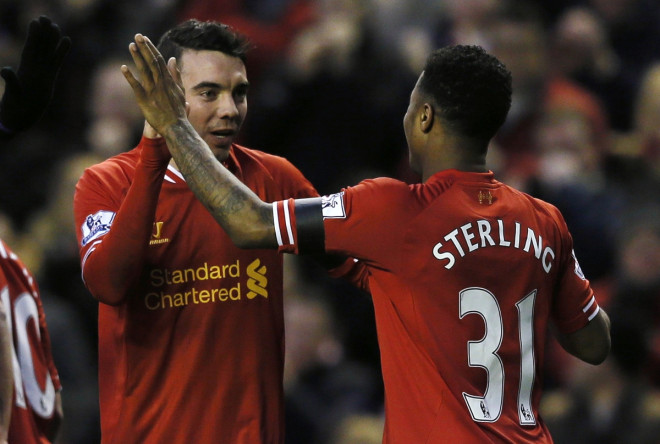 Liverpool striker Iago Aspas hopes that former Anfield stars Andy Carroll, Stewart Downing and Joe Cole help Brendan Rodgers' side clinch the Premier League title by beating Manchester City in their last game of the season.
After the Reds surrendered a three-goal lead in their dramatic 3-3 draw with Crystal Palace last Monday, Manchester City need just a point against the Hammers to secure the title.
However, should Manuel Pellegrini's side suffer a surprise home defeat a Liverpool victory over Newcastle will see them crowned champions.
Even though Aspas acknowledges his side's chances are slim, he hopes that the former Anfield stars in east London make every effort to hand their former club one last favour.
"Several former Liverpool players are at West Ham and I am sure they will want to make the best for their club but also for Liverpool," Aspas said in an interview with Spanish radio station Onda Cero.
"Now it is almost impossible because City play at home and they have won many games scoring plenty of goals there. But we are not going to lose our hopes until the very last minute. It is very difficult but we will fight for our fans (to beat Newcastle)."
Aspas also explained the effect the dramatic draw at Selhurst Park has had on the squad after they squandered a three-goal lead in the final 11 minutes in south-east London.
"It has been a shock especially after we saw that the title was almost in our hands. At the beginning of the season nobody expected us to win and out target was just to secure the Champion League qualification. But when you are close, when you are winning 3-0, getting a draw is tough," he said.
"It will not be a failure anyway. It is true that it is painful after being so close but no one would think we could be fighting to win the league."
When asked which teams have played the best football this season, Aspas said: "Manchester City and Arsenal. And I also really like Southampton. With very young players and without major stars they have caused a great impact on me."