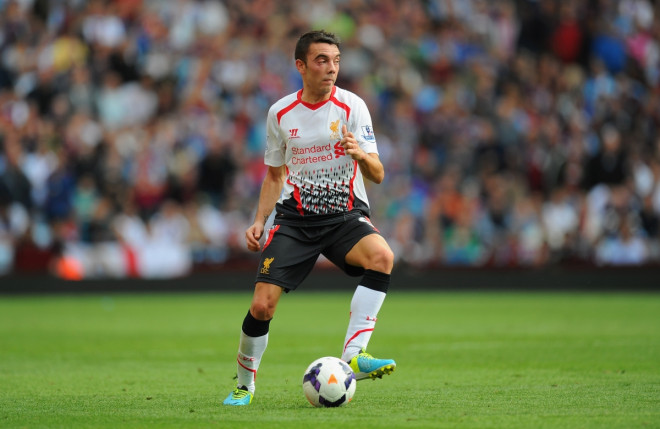 Liverpool's unsettled striker Iago Aspas has suggested that he will stay at Anfield next season, claiming that even though he would like more game-time he is not "going to jump off a bridge wanting to leave the club" and go back to Spain.
The Spaniard moved to Merseyside last summer in a £7.7m transfer from Celta Vigo after being a sensation in La Liga.
However, with Luis Suarez and Daniel Sturridge excelling for Brendan Rodgers this season he has failed to replicate that form, starting just five Premier League games.
But asked in an interview with Spanish Radio Station Onda Cero whether he will consider a summer move to get more starting opportunities, Aspas said: "I have not thought about my future yet.
"I still have three more years under contract at the club. I took a big jump when I decided to move from Celta to Liverpool and I'm not going to jump off a bridge wanting to leave the club just one year after. But it's hard to go from playing all the time at Celta to playing so little here.
"I am happy because of the team but a player is selfish and wants to play more. This is obvious. Confidence for a player is everything and it's not the same when you play the whole game than when you just have five minutes in the second half."
Recent reports in Spain claimed that Celta are likely to have him back in La Liga next season, with Liverpool ready to open negotiations over a sale.
Aspas doesn't hide his desire to return to Celta but refused to confirm he will make the move this summer.
"I have not spoken to the club [Celta] and the club have not spoken to me either. And I don't know what Liverpool will think about it.
"I have always said that I hope to return to Celta. I don't know if this year, in two or in five but I am sure I willl return some day."