Key Features:
Smartphone docks into tablet
Phone: 4.7in LCD, 720 x 1280 resolution, 312ppi, 2,140mAh battery
Tablet: 10.2in IPS, 1280 x 800 resolution, 150ppi, 5,000mAH battery
1.5GHz quad-core Qualcomm processor, 2GB RAM
Android 4.1 (Jelly Bean)
Price as reviewed: £599 (32GB storage)
Introduction:
Now in its second generation, the Asus Padfone is an attractive concept for those who want a high-end smartphone and a tablet, but don't want to pay for two mobile data connections and worry about syncing data between the two.
Including a 4.7in phone and a 10.1in tablet, the Padfone 2 claims to offer the best of both worlds; a powerful smartphone for your on-the-go life, and a large 10in tablet for when you want to sit down with a larger screen, but still have access to everything stored on the phone.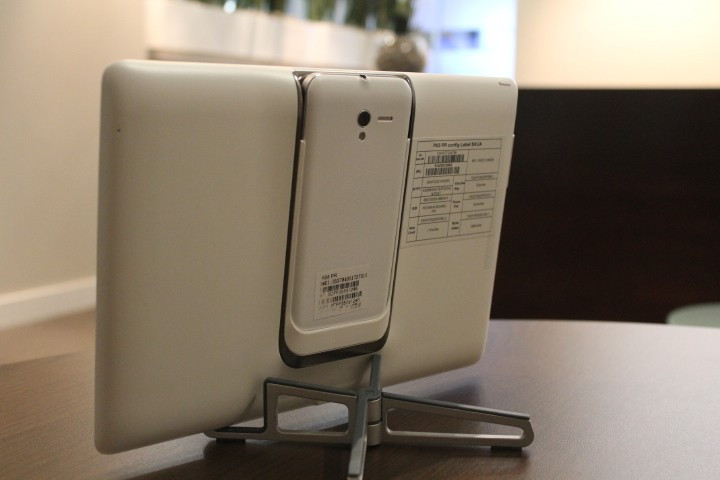 The tablet is 'dumb' in that it has no processor or storage of its own, it is merely a display and a battery, with all computing being done by the phone.
At £600 for the pair (and a fixed 32GB of storage) the Padfone 2 costs slightly less than the £629 you'd pay for a Google Nexus 10 tablet (£389 for 32GB) and Nexus 4 smartphone (8GB, £239).
Asus Padfone 2: Look and Feel
Because it's such a unique feature you're going to spend a lot of your first day with the Padfone connecting and disconnecting the phone from its dock - at least I did - and the good news is that it slots into place with no fuss at all.
Hold the tablet upside down - even shake it - and the phone stays firmly in place despite there being no locking mechanism, it's just a very good fit.
The phone has a Gorilla Glass-covered 4.7in display with three backlit capacitive touch buttons below for Back, Home and Multitasking, while above the screen sits a front-facing 1.2-megapixel camera, proximity and ambient light sensors, and a chrome speaker.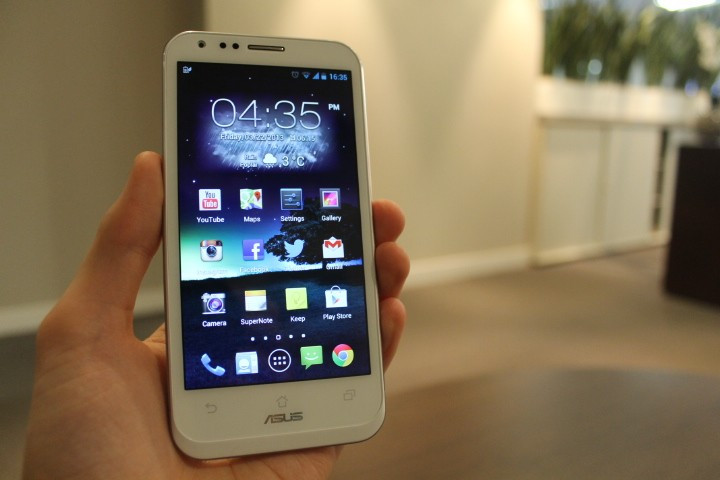 Around the back, Asus has fitted a 13-megapixel camera with autofocus and LED flash next to a loudspeaker. The back cover has the grooved, circular texture of a vinyl record with the camera at its centre, but the grooves aren't really deep enough to provide any extra grip.
The edge of the phone is lined by a metal band housing a volume rocker and power button on the right, and a headphone jack and micro SIM card tray at the top.
At 9mm, the phone is already thin, but this is highlighted further with a very slight tapering from top to bottom, and a much more obvious tapering of the metal band, which reduces to a sliver along the lower edge where it is met by a micro USB port flanked by two holes to secure the phone against its mounting posts inside the tablet.
Speaking of which, the Padfone 2 tablet looks like any other 10in tablet you've ever seen. The front is a glass-covered screen with black border and front-facing camera, there's a microUSB port on the bottom, a volume rocker, speaker and microphone on the side, and a screen lock button on the top.
On its own the phone weighs 135g - about the same as a Samsung Galaxy S3 - and when connected to the tablet the whole package comes in at 649g, 13g less than the newest iPad with Retina display, although the Padfone feels slightly strange, as its centre of gravity is offset by the phone.
Another problem caused by the phone is that it sticks out of the back, so when you lay the tablet flat on a table typing is just about impossible because it rocks from side to side as you tap the screen.
Overall, it's a great phone bundled with a good tablet, but the real test will be in seeing if the two-in-one concept is something you can not only live with, but benefit from.
Asus Padfone 2: Hardware and Connectivity
Both phone and tablet have a microUSB port for charging and the phone has a headphone jack that can also be used when docked to the tablet. Sadly, that's as far as physical connection goes; there is no HDMI to hook the Padfone up to a television, no regular USB port for attaching storage and, worst of all, no microSD card slot.
Asus fits full-size SD card slots to its Transformer Pad and Transformer Pad Infinity tablets, so it's disappointing to see the Padfone 2 miss out, and storage is capped at 16GB, 32GB or 64GB.
Asus Padfone 2: Displays
The phone has a 4.7in display with a resolution of 120 x 720 pixels and a pixel density of 312 pixels per inch (ppi). This isn't quite as high as the Retina-screened iPhone 5 and is some way off the super-dense screens of the HTC One and Sony Xperia Z, but it's still an excellent display. Colours are bright and crisp, text is very sharp, blacks are dark and the Padfone offers a wide viewing angle.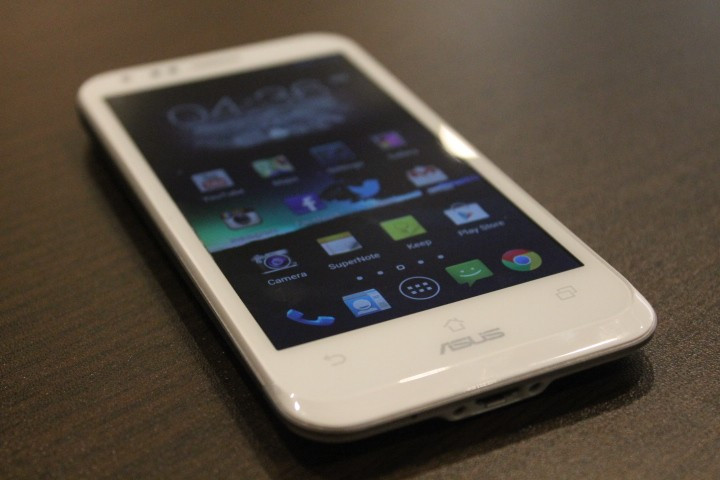 The backlight is very good and there's an 'outdoor mode' to give both screens an extra boost, helping to reduce reflections. I've been very impressed with phone's screen in the week I've been using it, but as with all smartphone of this size, using it with one hand can be difficult.
My only major complaint with the screen is how close the three capacitive touch buttons are to the bottom edge of it. I often found myself hitting the Home button instead of the spacebar while typing; there's clearly enough space to lower the Asus logo and Home button by a few millimetres to eliminate this.
Over to the tablet, and it has a 10.1in display with a resolution of 1280 x 800 and much lower pixel density of 150ppi. While the tablet's display isn't necessarily bad, it didn't do much to impress me.
The relatively low resolution makes text blocky and uncomfortable to read for long periods of time; the backlight doesn't seem as powerful as on the phone (despite also having 'Outdoor mode'); and blacks aren't as dark, turning blue unless looked at from exactly straight ahead.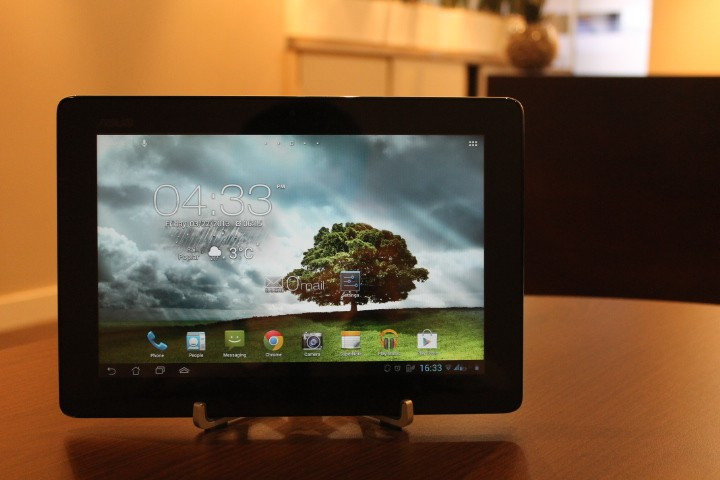 It only takes a few minutes with the Padfone 2 to work out where most of your £600 has gone; the phone is excellent, whereas the tablet is merely average. Not terrible like the Archos 101 XS, but not as pin-sharp as the Asus Transformer Pad Infinity or iPad with Retina display.
Asus Padfone 2: Camera
Asus has fitted the Padfone 2 with a 13-megapixel camera with autofocus and LED flash on the back and a 1.2-megapixel camera on the front, while the tablet has its own VGA-quality camera for video calls.
The Padfone 2 has a comprehensive camera app, with options for a wide range of filters and shooting modes, including HDR (high dynamic range) and panoramic, as well as the ability to adjust white balance and ISO.
Tap the screen to focus, and then either tap the icon to shoot a photo, or press either of the volume buttons, which act as makeshift physical shutter buttons. Photos produced by the Padfone 2 are good - as you'd hope from a 13 megapixel sensor - but they aren't anything to write home about. A lack of light causes lots of noise and in better light images were quickly washed out.
As for video, you can zoom and record full 1080p HD at the same time, but taking photos and video at the same time isn't possible.
Asus Padfone 2: Software
Instead of following the lead of Samsung and creating skins that modify the Android user interface to within an inch of its life, Asus has opted to leave Google's mobile OS almost entirely standard.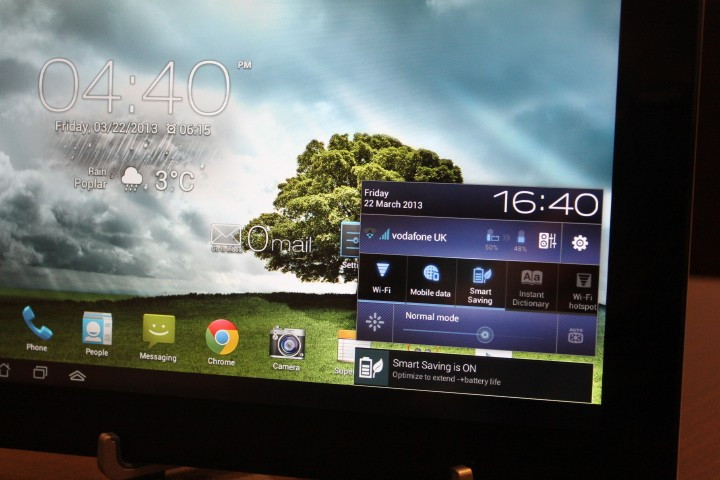 There are some changes to the pull-down notification drawer, and the Settings app has extra options to cater for the Padfone's tablet docking capabilities, but otherwise this is Android 4.1 (Jelly Bean) as you'd expect it to be.
The default web browser is quite poor, but thankfully Chrome is pre-installed, as are a couple of Asus's own applications, such as note-taking app Supernote, and AudioWizard for fine-tuning the sound depending on what you're listening to.
Some applications adjust automatically when the phone is connected or disconnected from the tablet. If you have the Settings app open, for example, or you are writing a text message, the app will scale up and return to exactly where you were when you connect phone to tablet.
Asus Padfone 2: Performance
I haven't a bad word to say about the Padfone 2 as a smartphone. Its 1.5Ghz quad-core processor and 2GB of RAM really make Android fly. Touch inputs are reacted to instantly, the whole operating system is slick and responsive, applications open quickly and even intensive games like Real Racing 3 play with ease - and without causing the phone to get hot, something that can't be said for an iPhone.
And better still, despite the masses of performance on offer and a large, bright screen, the smartphone's 2,140mAh battery can keep it running for almost two full days. A full day of heavy use is definitely possible, unlike a great many other high-end smartphones which are on their last legs by 6pm.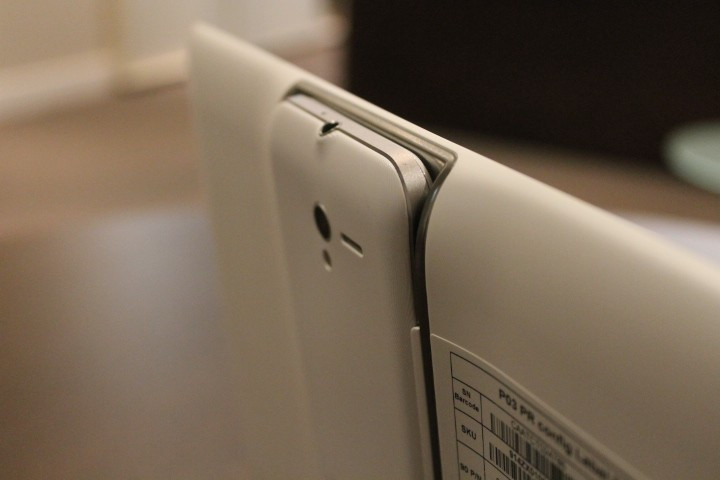 The tablet vibrates briefly to let you know the phone is securely in place and whatever you were doing is now displayed on the larger screen. It's a surprisingly seamless affair and takes little more than a second for the open app to jump from one screen to another, although some third party apps don't support active display switch, forcing you to reopen the app (in a saved state) each time you swap screens.
An annoying trait of the Padfone is that docking or undocking the phone removes all apps from the multitasking bar, so any game left paused in the background will be fully closed each time you switch from one screen to the other.
As performance goes, the Padfone is just as fast and responsive when docked into the tablet as it is on its own. Because the screen resolution is only marginally higher on the tablet, the quad-core processor doesn't have to work any harder to drive it, so while a full HD screen would be preferable, performance and battery life would be significantly affected.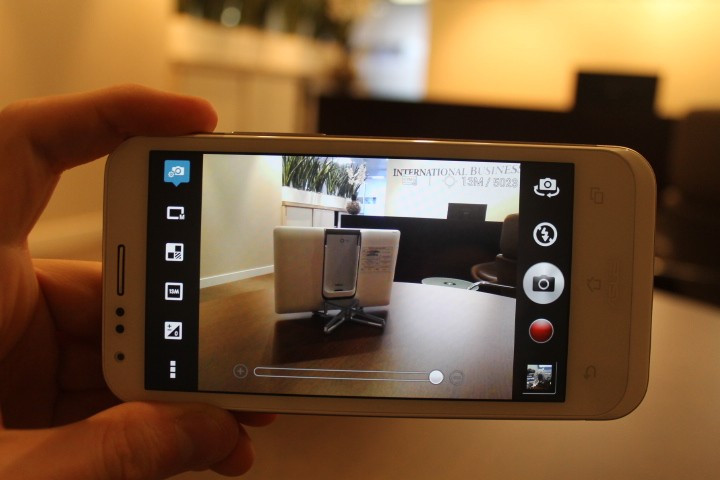 Speaking of battery life, the 5,000mAh cell in the tablet automatically charges the phone when connected and will see you through several days of average tablet use.
Asus Padfone 2: Value
The 32GB Padfone 2 is £600. For comparison, that's the same price as a 32GB iPhone 5 and slightly less than the combined price of a Google Nexus 4 phone and Nexus 10 tablet.
So why should you opt for the Padfone 2 over these? Well, having two devices sharing a 3G data tariff is a bonus. If you want a 3G smartphone and tablet you usually have to pay twice, or tether one from the other, but with the Padfone you just slide them together and the network connection is shared.
Same goes for storage: I'd like to have seen a microSD card slot on the phone, but nonetheless that 32GB of space is always accessible by the phone and tablet, so there's no need to sync them over the cloud or transfer files from one to the other - it's all very simple.
There are better 10.1in Android tablets - the Nexus 10, for starters - and there are better smartphones - the iPhone 5 and HTC One spring to mind - but neither are cheap enough to leave you with change for a 10in tablet, so in that sense the Padfone 2 is good value.
Asus Padfone 2: Verdict
I commend Asus for doing something different with the Padfone. The company could have made a great £400 smartphone and a cheap £200 tablet, but instead it combined the two to create a product that was always going to be a tough sell. Mostly, I suspect, because no one knew they actually wanted one until it went on sale.
What I've found is that the phone is for 80 percent of your time, and the tablet is there for the remaining 20 percent when you want to watch a film, or play a game on a big screen. On its own the tablet is lighter than any other 10in model, so it can be thrown in your bag and forgotten about until you need it.
It's like those home cinemas people who are paid better than journalists have. There's a nice big LED television on the wall to watch most of the time, but there's also a massive projector screen to lower from the ceiling when it's movie night or the football's on.
That's what the Padfone is. It's a great smartphone most of the time, but with a nice big screen for films and gaming when you want it.
Does that make it the best of both worlds? I'm still not fully convinced - I'd want a higher resolution on the tablet for that, but thankfully the full-HD Padfone Infinity is just around the corner.
Scores:
Design: 8/10
Build Quality: 8/10
Software: 9/10
Performance: 9/10
Value: 9/10
Overall: 9/10
The Good:
Great phone screen
Powerful processor
Phone/tablet integration works well
The Bad:
Average tablet screen
Can only use one device at a time
No microSD card slot for expandable storage
Camera Shots: