Asus has unveiled two Windows 8 tablets with keyboard docks which look a lot like its range of Android-based Transformer tablets.
Along with showing off its latest ultraportable, the Zenbook U500, Asus has revealed a new line-up of Windows 8 tablets, the Vivo Tab and Vivo Tab RT.
These tablets were initially shown off at Computex in June, then named the Tablet 810 and Tablet 600 respectively. Both tablets come with keyboard docks, Corning Gorilla Glass and SonicMaster audio technology.
Vivo Tab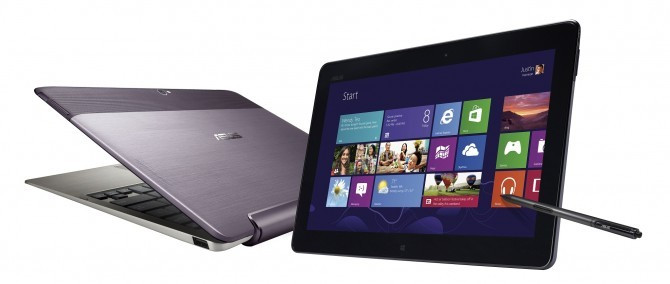 Powered by Intel's low-power Atom processor, the Vivo Tab features an 11.6in display which supports 10-point multi-touch. To help navigate around the Windows 8 interface, the Vivo Tab comes with a stylus and a Wacom digitizer that supports 1024 levels of pressure sensitivity - similar to the once seen recently on the Galaxy Note 10.1.
The display resolution of 1366 x 768 is nothing to get too excited about, but it does feature Super IPS+ technology which should provide decent viewing angles and even the possibility of outdoor visibility.
The Vivo Tab is slim, at just 8.6mm thick but the extra screen real estate does make it a bit on the heavy side, weighing 675g. There's an 8 megapixel rear camera with LED flash, a 2 megapixel front camera for video chats and an NFC-sensor that should enable the tablet to sync with other NFC devices such as smartphones.
While 2GB of RAM for a tablet may sound like a lot, remember this is running a fully-fledged version of Windows 8, meaning it could struggle to complete some tasks. It will come with 64GB of SSD storage.
Like the Transformer Pad's keyboard dock, the Vivo Tab's keyboard dock sports a trackpad, dual USB ports and an extra battery, which will allow the tablet to last even longer on a charge. There's no word yet on estimated battery life, however.
Vivo Tab RT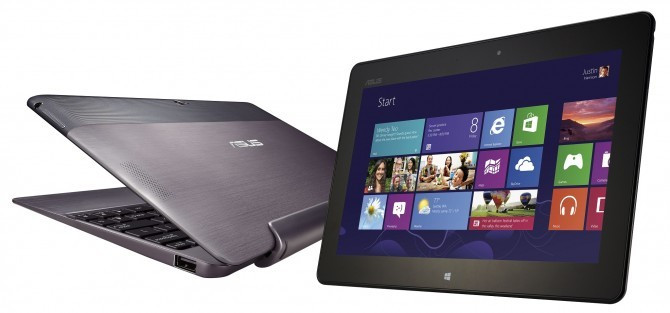 The second tablet from Asus comes with a smaller 10.1in screen which again uses the Super IPS+ technology.
The Vivo Tab RT will, as the name implies, come with the touch-optimised Windows 8 RT, and will be powered by the ARM-based Tegra 3 quad-core processor, which should also help battery life.
The 10.1in display also has a 1366 x 768 resolution which should make this screen appear sharper. There is no stylus here though. The smaller screen does mean the tablet is lighter however, weighing just 520g.
Again you get front and rear cameras, NFC, SonicMaster audio and the built-in trackpad on the keyboard dock, which this time has just one USB port.
Again the tablet will come with 2GB of RAM, but this time only offers 32GB of SSD storage.
There is no official word on pricing or release date, but like all other Windows 8 devices at the IFA 2012 show, we'll be waiting until at least October 26 to get our hands on them.
We are on the ground at IFA in Berlin and will bring you our first impressions of the Vivo tablets very soon.