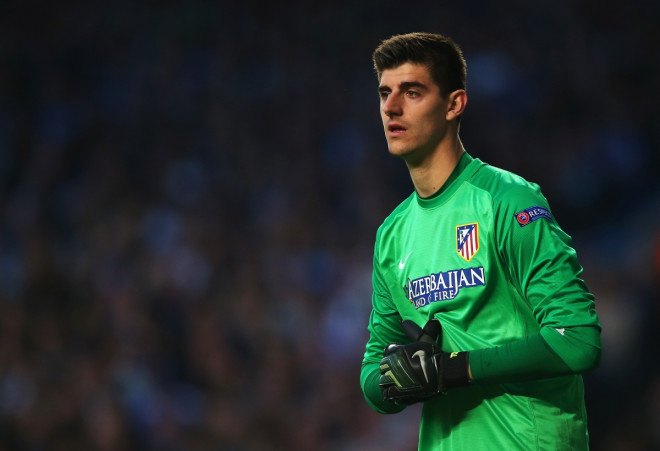 Atletico Madrid CEO Gil Marin has said on-loan goalkeeper Thibaut Courtois told the club's directors that he wanted to stay with the newly-crowned Spanish champions next season and not return to Chelsea in the summer.
The Blues signed the Belgian international from Genk in 2011 but allowed him to spend the three subsequent seasons on loan with Atletico. The west London club signed former Fulham shot-stopper Mark Schwarzer in a one-year deal last summer as backup to Petr Cech.
The former Inter Milan boss will be without Cech for the next few months due to a dislocated shoulder, leaving the Portuguese tactician in dilemma ahead of next season's preparations.
Earlier this year, Atletico manager Diego Simeone had admitted that he was keen on signing his first choice goalkeeper on a permanent basis. Marin's comment came in the aftermath of their defeat against arch-rivals Real Madrid in Champions League final at Lisbon.
"Courtois wants to stay and he's told the directors that. But it all depends on him and Chelsea have an injured goalkeeper," the Daily Express quoted Marin as saying.
The situation surrounding Courtois' future in the last few months has been anybody's guess. The 22-year-old hinted at his desire to stay away from Chelsea, saying that keeping him and Cech in the same team would be unhealthy for both and that neither of them would be happy playing in Cup competitions.
In a recent interview with Sport-Bild, Courtois said he has 'no emotional connection' with Chelsea.
He said: "The fans and other players at Atletico do not see me as a player out on loan. I have no emotional connection with Chelsea. They only signed me for €9m back in 2011. Since then I have only been in London for my medical check-up."
"Chelsea were already reluctant to send me out on loan last year. But I wanted to stay in Madrid. After this season, it goes back all over again and it is probably even more difficult to make a decision."
Courtois has also heaped praise on Simeone, saying the Argentinean manager was the catalyst behind Atletico's surge this season that culminated with the Spanish capital outfit securing their first La Liga crown since 1996.